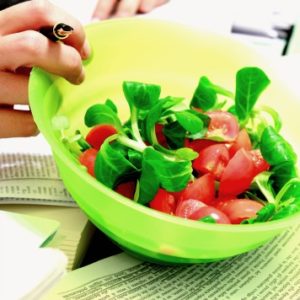 Here are some simple and fun food ideas for teens to make food that takes little to no effort and that are all Instagram-worthy!
There will be days when you will find other things to do rather than study. You know those late nights—when suddenly you need to clean and organize your room, sticky note the chapters you'll read "later," or maybe even Face time with someone back home. If you realize you're procrastinating and nothing is going to stop it, why not set up healthy snack and meal combinations for the week? At least when you're ready to put your mind to use, you can fuel it right with sustenance!
The Whole-Wheat English muffin
This perfect muffin is a great base for a lot of combinations that will hit the spot when you're in a time crunch!
Boiled egg (mashed or scrambled), cheese
Peanut butter, cinnamon, sliced bananas
Cottage cheese, sliced bananas, a drizzle of honey
Avocado (mashed), lettuce, turkey, sliced tomato
Tomato sauce, cheese, spinach (pizza!)
Directions:
1 Slice of English muffin, ideally well toasted.
Boiled eggs can be made in your Crock Pot. In place of a rice cooker, consider purchasing this for your dorm room. Hard-boiled eggs will keep for 1 week in the fridge (1).
English pizza is simple: 1-2 tablespoons of sauce, a slice of cheese, and 30 seconds in the microwave. If cheese is not melted, put it back in for another 30 seconds.

 

Don't forget to date your tomato sauce once you open it. Sauces and gravies are good for 5 days after opening.
Yogurt Jar
Plain Greek yogurt like this will change your mind next time you want that sugar-filled parfait. These options are a great snack for any time of the day!
Chopped walnuts, chia seeds, sliced banana, a dash of cinnamon.
Chopped almonds, mashed strawberries, orange slices, a dash of nutmeg, honey.
Chopped pistachios, chopped dried figs, a drizzle of honey.
A spoonful of peanut butter, chocolate chips, sliced banana.

2 

tablespoons of oats, chopped dried apricots, chopped almonds, a drizzle of honey.
Directions: 
Use 1/3 cup of plain Greek yogurt or regular plain yogurt
Chop any nuts or dried fruit the night before so you can assemble when you get up in the morning or before studying
* These can also be blended with your favorite milk for a great smoothie.
Outrageous Oatmeal
Oatmeal doesn't have to be a goopy, flavorless mess. You can either make it in your crockpot (so you have enough for several days), or you can soak it overnight in the fridge. The over-night version requires no cooking and travels well. So try it out and get a good source of fiber that's packed with flavor and beats the microwave version.
Dash of cinnamon, almond milk, a drizzle of honey, chopped walnuts, raisins
Chopped dates, chopped pistachios, milk, a dash of nutmeg, sunflower seeds, almond milk
A spoonful of almond butter, chopped chocolate chips, dried cranberries, milk
Chopped apple, cinnamon, nutmeg, honey, chopped almonds, almond milk
Chia seed, chopped walnuts, milk, dried strawberries
Directions:
1/3 cup oats
1 cup of desired milk
Add in ½ teaspoon of cinnamon, nutmeg, or chia seed
Sprinkle with chopped dried fruits and nuts
Put in fridge overnight
* If you want to add a banana, take one with you so you can slice it before you eat. If you set it overnight the banana will oxidize and turn brown.
Easy Noodles
Noodles can be nutrient dense, filling, and won't break your budget. Here are some combinations you'll love with your favorite buckwheat pasta or linguine!
Vegetable broth, finely-sliced carrots, sliced scallions, boiled egg
Pesto, cherry tomatoes
Peanut butter, finely-sliced celery, finely-sliced carrots, chopped peanuts, paprika, garlic powder
Beef broth, frozen mixed vegetables – I like the pea, corn, and carrot mix
Chicken broth, tomatoes, garlic powder, onion powder
Directions:
In your Crock Pot, cook pasta and then drain the water. Add almond/ peanut butter to the mixture, using the warmth of the pasta to heat up the nut butter. Add in other sliced ingredients and serve or store for the next two days.
Cook pasta in vegetable, beef, or chicken broth in Crock Pot and add in veggies and herbs.
Get a good quality pesto and serve over cooked pasta and halved cherry tomatoes. The same can be done with tomato sauce.
Use 1/3 of pasta for a single serving. Cooked meals are still good for 3-4 days (2).
Snack Pack!
Tired of spending a fortune on vending machine snacks? Eating too many chips that your pants feel a little tight? Well, I have a solution! These no-brainer combinations will keep you feeling satisfied, and your clothes will still fit great!
Trail mix! Almonds, pumpkin seeds, cereal, chocolate chips, a pinch of salt, and dash of cinnamon.
Hummus with veggie sticks!
Natures very own banana, apple, and orange.
Peanut butter with raisins for dipping! Carrots, celery, and crackers taste great with this.

 

Ready-made snacks: Kind bar, applesauce, apple chips, kale chips.
Directions:
Buy a good quality hummus. Fill 1/3 of a jar and fill with baby carrots or chopped carrots and celery sticks. Boom!
In a container, mix in a ¼ cup of nuts, cereal, chocolate chips, sea salt, and cinnamon. Seal tight with lid and shake! Trail mix done.
Writing out a list or plugging it into your phone doesn't take much time, so put some effort into keeping organized. Dried foods are a good investment because they have a longer shelf life. Foods like nuts, seeds, dried fruits, grains, cereals, and pastas are things you won't have to buy as often. Be aware of how often you do eat fresh fruit and foods like yogurt, so you don't waste money because they went bad. Take advantage of things being served in the dining hall! Sometimes you won't have to buy fruits or cereals because they are offered there, and you can take it back to your room. I don't mean the entire selection of cereals, but take a small container to pour another serving. And who knows, maybe your roommate will want to split the cost of food, so you guys can help each other out. Discover new easy ways to make food in your dorm room -like these 10 No-Cook Dorm Room Meals.