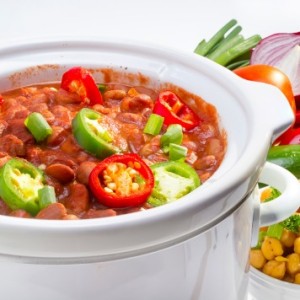 There is one question that can drum up a parent's anxiety like no other. The dreaded, "What's for dinner?" These slow cooker meals for families might be the answer you've been looking for.
This post contains an affiliate link. As an Amazon Associate, we earn from qualifying purchases. The link is noted with an asterisk (*).
This can be an exhausting topic to ponder after a long day at work and a house full of active kids. One of the best ways to have fresh food on busy weeknights is to use a slow cooker. Yes, that piece of kitchen cookware collecting dust in the back of your kitchen cabinet. It is time to dust off the slow cooker and let dinner cook itself with these slow cooker meals for families.
With just a few preparatory steps in the morning (or the night before), the slow cooker can have dinner ready right when everyone gets home from their busy days out. Imagine being welcomed home by the delicious smell of a slowly simmered meal. In just a few minutes you can have a complete nourishing meal on the table.
Think beyond the typical stewed meats and get creative with the slow cooker. Below are 3 versatile slow cooker recipes to get you started—an easy vegetarian lasagna, a Japanese cabbage stew, and a scrumptious beef and vegetable chili. If you want to quicken up the process, even more, consider using a pressure cooker like the Instant Pot* instead, just be sure to adjust the cooking time. You'll be surprised how delicious an easy dish can taste, and these recipes will make everyone in the family run toward the kitchen!
Slow Cooker Vegetarian Lasagna – Serves 6
Recipe inspired by eatliverun.com
Who knew you could make lasagna in the slow cooker? Feel free to change up the vegetables with what you have on-hand. Try substituting mushrooms for zucchini, kale or Swiss chard for spinach, or swirl a little pumpkin puree into the cheese mixture. The possibilities are endless!
Ingredients:
2 medium zucchini
1 15-oz container part-skim ricotta cheese
1 cup shredded mozzarella cheese, divided
¼ teaspoon black pepper
¼ teaspoon garlic powder
¼ teaspoon dried basil
Cooking spray
1 28-oz jar marinara sauce (tip: look for sauces with no sugar added)
1 6-oz bag of pre-washed fresh spinach
10 "no-boil" lasagna noodles
Directions:
Using a vegetable peeler, shave the zucchini into long ribbon-like strips. Set aside. In a large mixing bowl, combine the ricotta cheese, 1/2 cup shredded mozzarella cheese, black pepper, garlic powder, and basil. Mix well to combine.
Spray a 4-quart slow cooker with cooking spray. Pour enough sauce to cover the bottom of the slow cooker with a thin layer, about 1/3 cup. Lay 2 lasagna noodles flat, side-by-side, at the bottom of the pot. Break apart the noodles as needed to make them fit. Drop small spoonfuls of the cheese mixture on top of the noodles. It is ok to have gaps between the cheese; when it cooks, everything will melt together.
Layer some of the zucchini ribbons on top of the cheese. Next, add a layer of spinach. Drizzle about 1/4 cup of marinara sauce on top and then add another layer of noodles. Repeat until you have 5 layers, or until you finish all of your ingredients. Spread any remaining sauce on top of the final layer and scatter the remaining ½ cup of the mozzarella cheese on top.
Place lid on the slow cooker and cook on low for 5 to 6 hours. Lasagna will puff up when done. When ready to serve, cut squares of lasagna out of the slow cooker to serve. Enjoy with a big salad!
Slow Cooker Japanese Cabbage Stew – Serves 8
Recipe inspired by Better Homes and Gardens
This Japanese Cabbage stew is full of savory "umami" flavors that come from a mix of ground meat, miso paste, tomato paste, soy sauce, and a combination of vinegar. Loads of colorful and crunchy vegetables keep this stew balanced and healthy. Serve the stew as is, or over brown rice or quinoa.
Ingredients:
Nonstick cooking spray
6 cups shredded cabbage (or 6 cups pre-shredded coleslaw mix)
1 1/4 lbs lean ground chicken or turkey
1 cup chopped fresh spinach or kale
1 cup chopped red bell pepper
1 medium onion, chopped
2 stalks celery, chopped
1/4 cup chopped green onions
1/4 teaspoon ground black pepper
2 tablespoons red miso paste
4 cups reduced-sodium chicken broth
1/4 cup reduced-sodium soy sauce
3 tablespoons tomato paste
2 tablespoons sherry vinegar
1 tablespoon rice wine vinegar
1 teaspoon dried thyme
Directions:
Lightly coat a 4-quart slow cooker with cooking spray. Add the chopped cabbage, ground chicken or turkey, spinach/kale, peppers, onion, celery, green onions, black pepper, and miso paste. Mix with a wooden spoon.
In a medium bowl, whisk together the broth, soy sauce, tomato paste, sherry vinegar, rice vinegar, and thyme. Pour broth mixture over the chicken-vegetable mixture in the slow cooker; stir to combine.
Cover and cook on LOW for 6 hours, or on HIGH for 3 hours.
Slow Cooker Chili – Serves 8
This hearty chili has a little of everything—beans, meat, veggies, and spices. Slurp it up with your family's favorite healthy toppings, or serve it with a little homemade cornbread or whole-wheat toast. Perfect for a cozy family dinner, and makes great leftovers, too!
Ingredients:
1 lb lean ground beef
1 medium onion, diced
1 green bell pepper, diced
3 carrots, finely shredded
2 15-oz cans low sodium kidney beans, drained and rinsed
1 15-oz can low sodium white beans, drained and rinsed
1 cup water
1 28-oz can diced tomatoes
3 tablespoons tomato paste
3 cloves garlic, minced
3 tablespoons chili powder
1 ½ tablespoon ground cumin
2 teaspoons dried oregano
1 teaspoon salt
1 teaspoon ground black pepper
2 dashes hot pepper sauce
Directions:
Place the beef in a skillet over medium heat, and cook, breaking up with a spoon, until evenly brown. Drain off the grease and place the beef in the slow cooker. Add the onion, green bell pepper, carrots, kidney beans, white beans, water, diced tomatoes, tomato paste, and garlic. Season with chili powder, cumin, oregano, salt, black pepper, and hot pepper sauce. Stir well to blend.
Cover the slow cooker and cook on low for 8 hours. Serve with your favorite healthy toppings, such as plain Greek yogurt or low-fat sour cream, avocado slices, chopped chives or scallions, or a sprinkle of grated Cheddar cheese.
Like these slow cooker meals for families? Next check out these tasty veggie and bean enchiladas then learn about 10 Easy High Protein Meals with Beans!