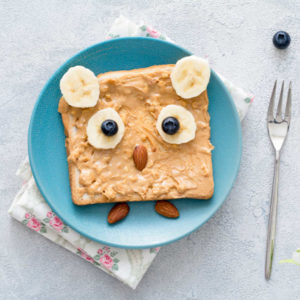 Try these delicious ways to dress your morning toast that will have everyone in the family excited for breakfast!
The most important meal of the day just got a long-overdue makeover. Are you searching for fast and nutritious breakfast ideas that hold your hunger at bay while you are busy tackling the never-ending job of "mom"? Nothing is easier than popping a piece of bread in the toaster. With a few extra minutes, your toast will go from boring and bland to exciting and tasty. Look no further than these toast makeovers – whether you like it sweet and satisfying or savory and delicious there is a toast for you.
Take a slice of whole wheat or rich multigrain seed toast up a notch from the standard pat of butter with these ten tasty toast breakfasts. They will create a balanced, full meal with a nutritious punch from satiating healthy fats and proteins.
Triple Sweet with Chia Seeds
Looking for a sweet and healthy toast? Mix plain Greek yogurt with 1-2 tablespoons of nut butter, and a small splash of vanilla extract. Smear it on the toast. Then, cube a small apple and mix it with 1-2 teaspoons of honey or maple syrup, chia seeds, and a dash of cinnamon. Did breakfast just become apple pie a la mode?
Avocado Toast
The notorious brunch staple can be yours every morning. Slice ½ of an avocado on toast and top it with a sprinkle of sea salt. You can vary your avocado toast by adding an egg or spreading some hummus on it too!
Open-Faced Egg Sammy
Are you a runny, firm, or crispy egg kind of gal? Scramble, fry, or poach an egg to put on your toast. Pair it with a slice of turkey sausage and spinach for a complete breakfast.
Goin' Nuts for Berries
Slice strawberries and mix with blueberries, raspberries, and a handful of nuts like walnuts or cashews. Place on top of the toast and add a drizzle of honey. The nuts add a nutritious, healthy fat that will help keep you full.
Monkeying Around
Smear a spoonful of nut butter like almond or peanut on a toasty multigrain slice, and top with sliced banana, and a dash of cinnamon. Feeling a little early AM chocolate craving? Sprinkle some cacao nibs on top!
Mediterranean Dreamin'
Take a mental "escape" with each bite of this breakfast by spreading your favorite hummus on toast. Top it with sundried tomatoes and roasted or plain chickpeas. Sprinkle with garlic powder for an extra explosion of flavor.

Hardboiled
Nothing says fast and easy like slicing pre-made hard boiled eggs on toast. Add some sliced radish for a spicy flavor addition. You can whip up an egg salad for another variation by mashing an egg with Greek yogurt, mustard, salt, and pepper.
Pumpkin Perfection
When you're craving that fall flavor, look no further than this pumpkin pie toast rendition. Mix 1/3 cup pumpkin puree with ¼ cup Greek yogurt, and pumpkin pie spice. Heat it in the microwave for 20 seconds, or until warm throughout. Spread the warm mixture on the toast and topped with crushed pecans.
Easy BRIE-zy
Slice a serving of brie, pit and slice ½ cup of cherries, and turn on your broiler. Toast a piece of bread and add the brie and cherries. Place under the broiler for 60-90 seconds, or until the cheese starts to melt and the cherries start to ooze a little juice. Top the toast with a handful of crushed walnuts for a sophisticated, yet simple breakfast!
BLT for B
Nothing fancy here! Just top your toast with lettuce or spinach, sliced heirloom or cherry tomatoes, and already cooked bacon or turkey bacon. Feeling spunky? Add some sliced avocado and a drizzle of Greek yogurt ranch. Who said BLTs were reserved for lunch!?
A complete makeover for a simple breakfast staple has never been so easy! Spruce up you and your family's normal breakfast routine with one of these easy, no fuss, fast, and delicious toast improvements. The best part about it is you can try a new one every day of the week. Don't forget to let your kids experiment with their own creations! Check out some of these other quick and tasty breakfast ideas to add to your repertoire or have for back up! Have some other toast ideas? Post them to the comments!