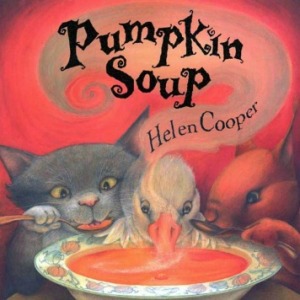 Read this book with your kids to go on a fun adventure with Duck, the fussy eater, and his friends, and see how his friends helped him!
by Helen Cooper
What is this book about?
This is a delightful and beautifully illustrated book filled with funny little characters who explore the picky and fussy eater. The three main characters are friends: Cat, Squirrel, and Duck, who is the fussy eater. Observing the dilemmas from the sidelines are the Bugs who comment on the three friend's behavior, and save the soups from the fate of the garbage.
Pumpkin soup was a mainstay, but there were no ripe pumpkins to be found in their garden. So, they decided to try to make different soups from an old recipe book. The friends go on all sorts of adventures to find ingredients and learn that it is important to try new foods even when they look different.
What are the lessons from this book?
This book shows that there are consequences to not eating, and that it is a challenge to get picky eaters to eat. This book also teaches where some foods come from: the garden, the sea, and the market. It can take up to 15 exposures to a new food before a child will accept it. If you are patient you will be able to encourage your picky eater to try new foods by continuing to offer new foods over time.
After reading this book with your child:
Make the Pink Soup recipe given in the book.
Have the entire family go to the market and each chose a vegetable to add to a homemade soup.
Start your own garden with a variety of fruits and veggies.
Delicious! A Pumpkin Soup Story by Helen Cooper. Farrar, Straus and Giroux, New York: 2007.