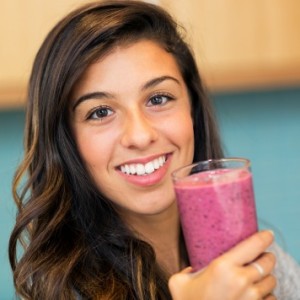 Breakfast is an important meal that is vital for your teen's physical and mental performance. Try using these three easy strategies to get your teen on board with breakfast!
Teenagers are notorious for skipping breakfast. This may not seem like a huge deal – they can just eat a big lunch and all will be well, right? Not exactly.
Highlight the benefits of breakfast
Teenagers may think that they know it all, but be sure to stress the importance of breaking the overnight fast in the morning anyway. Breakfast really is the most important meal of the day – it may be a cliché, but that doesn't make it any less true. Teenagers really need to appreciate this point.
Breakfast consumption promotes:
Improved cognitive function, which can help teens do better in school
Increased energy to help them get through their busy days
Healthful weight status, since increased satiety early in the day decreases the tendency to overeat later on. Eating early runs counter to the notion that many teens, especially teen girls, have that skipping breakfast will help them cut calories.
Have grab-and-go foods stocked
Mornings are crazy. Make both of your lives easier by stocking up on items such as:
Small containers of milk or 100% juice
Yogurt (Greek varieties pack a mean protein punch that will keep teens full longer)
String cheese
Cereal in individual boxes or pre-portioned into plastic baggies
Fresh whole fruit – apples, bananas, oranges, etc.
Bagels
Hard-boiled eggs
Cold sandwiches (which can be made in advance). Peanut butter and jelly or peanut butter and banana work well in the morning.
These items will be ready to go in no time and can easily be eaten on the run.
Eat breakfast and set an example
"Do as I say, not as I do" just doesn't cut it. If teens see their parents eating breakfast, they will be more likely to do the same. They may not show it all the time, but they still look up to you. An easy, yet subtle way to influence your teen is to model good behaviors.