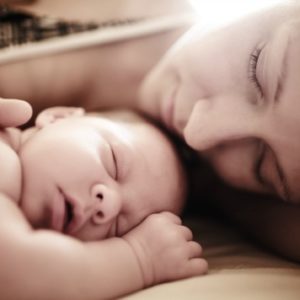 This is an extremely exciting time for your family, so try these eating basics to decrease your stress and enjoy these moments even more.
Having a new baby in your life is a joyous experience. But, what most baby-care books don't tell you is that this time is also nerve-wracking for most new parents. Simple things like planning a meal can be an impossible task to accomplish during a day. After the birth of my second daughter, I found it so daunting to plan and prepare a healthy, balanced meal for my family with a newborn and toddler hanging on to my every need. Many parents find it easier to have takeout as a way to ease this burden. Here are a few helpful tips I learned to make the transition back to your mealtime routine stress-free:
Plan Ahead
Before the baby arrives, try making a few healthy freezable meals.  Take a weekend day and make items like chili with 100% ground turkey breast, beans and veggies. You can use this as a meal, a topper to a baked potato, or as a filling to your favorite Mexican dish. You could also host a night at a meal-preparation store and stock up on 6-12 meals in an evening. By having versatile meals available, you will be less likely to grab fast food or something less balanced. Here are 6 tips to make meal planning easier.
Accept Help
When family or friends ask if you need help, say yes! A friend or family member could help with mealtime by bringing over a meal or by taking care of the baby while you cook dinner.
Once the Help Ends, Look for Super Simple Meals
Even though you are sleep-deprived and stressed out, create a meal plan once a week. Find quick recipes with less than five ingredients or recipes that you can prepare in 20 minutes or less. Try grilled salmon with tomatoes, whole grain rice, and a bagged salad as a quick meal. Also, use opportunities like baby's afternoon nap to make dinner rather than the end of the day, which is usually the baby's cranky time. You can also try using the slow cooker to save time! As your baby grows and is eating be sure to make meals that both you and baby can enjoy, like this quinoa, chicken and veggie dish.
Healthy takeout
If you choose takeout, pick healthy options. Splitting a meal with your significant other is a great way to cut back on high-calorie restaurant meals. Purchase a la carte items or light meals like a bowl of a vegetable based soup with a small salad or half of a sandwich. When picking your entrée, stay away from fried foods, cream sauces, and entrees that say "with the works!" Check out on our favorite books, Eat Out, Eat Right and visit HealthyDiningFinder to see which restaurants are serving nutritious meals in your area.
Before you know it, you will be back to your healthy routine and enjoying the blessings of a new baby stress-free!
Test Your Knowledge?
1. To make a quick meal, try aiming for…..
a. Less than 10 ingredients
b. Less than 5 ingredients
c. Less than 8 ingredients
Answer:  b
2. Name one way to cut back on fat and calories when ordering take-out:
Answer:  Splitting a meal
Thinking about breastfeeding? Here are some reasons why!