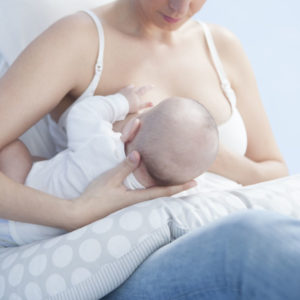 You may be wondering if breastfeeding is right for you and your baby. Here are some facts to help you decide how to feed your baby.
There are so many decisions to make when you are having a new baby. You'll need to decide on what car seat to buy, which diapers work best, and which feeding method to use.
Breastfeeding Advantages for Baby and Mom:
Breastfeeding provides a unique, superior food for the human infant. Cow's milk is best for cows, and human milk is best for humans.
Breast milk is always ready, warm, and clean.
It helps baby's immunizations work better.
It is easily digested, which means less stomach distress.
It increases mother-infant bonding because of the frequent skin to skin and eye to eye contact.
It allows the baby to meet his/her sucking needs.
Breastfed babies have fewer problems with diarrhea, constipation, ear infections, bacterial meningitis, and respiratory infections than formula-fed babies.
Diseases such as obesity, diabetes, high cholesterol, and high blood pressure are less common in later years in a breastfed baby.
Breastfeeding helps develop the muscles in the baby's face and mouth, which leads to better speech and tooth development.
Scientific studies have shown that infant death from Sudden Infant Death Syndrome (SIDS) is lower and intelligence quotient (IQ) is higher in breastfed babies.
Hormones are released in mom that helps her uterus get small again, and she bleeds less after baby's birth.
Decreases mom's risk of developing certain cancers and osteoporosis.
May help you lose weight faster.
Breastfeeding saves you money.
Breastfeeding gives your baby the best start in life!
Give it a try! To find 101 other reasons to breastfeed your child, go to www.notmilk.com/101.html.
Discover even more reasons to breastfeed!