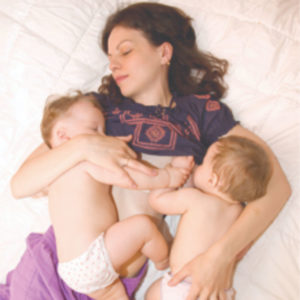 For moms who want to breastfeed their multiples, keep the following tips in mind.
Tips for Breastfeeding Multiples
First and foremost, make sure to spend time with each baby assisting them in learning how to latch on to your breast correctly. Work with a lactation consultant closely if you are having latch problems.
Choose your lactation consultant carefully. Make sure she is helping you. If not, find someone new.
Become friends with your lactation consultant! Ask if you can have her email address and phone number for emergency problems or questions.
Get a good nursing pillow. There are many different types available including twin-specific types.
First, master breastfeeding each baby alone, and then learn to tandem breastfeed (feeding the babies at the same time) before your babies are discharged from the hospital.
Tandem breastfeed all the time to save on time!
The double football hold position is the least awkward position to master.
Breastfeeding two babies at a time requires additional space: Use a small sofa for breastfeeding.
Make breastfeeding your full-time job. Let others help with housework and cooking. And if you can delay going back to work, do so. For information on breastfeeding and going back to work, to the La Leche League or www.womenshealth.gov/breastfeeding.
If you choose to back to work, start expressing extra breast milk between infant feedings early. This will help you to have a supply of reserve breast milk, and get you accustomed to using your breast pump. Store the breast milk in the freezer, and be sure to date each bag so you can use the oldest breast milk first.
Check with your insurance company, as many of them cover the purchase cost of a breast pump.
To keep up your energy, rest as much as possible. Sleep in if you can, and try to go to bed early.
For breastfeeding success, rely on family and friends and other support including:
Lactation consultants
Pediatricians and Obstetricians
Hospital lactation helplines or meetings, and the Federal Breastfeeding Hotline (see www.womenshealth.gov/breastfeeding).
The Federal Breastfeeding Hotline is also available at 1-800-994-9662 for English and Spanish-speaking callers.
Other Moms that have successfully breastfed their children
Want to know more about the benefits of breastfeeding? Learn more here!