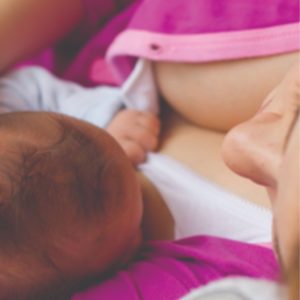 Breast milk is nutritionally superior to formula.
The American Academy of Pediatrics endorses breast milk as the gold standard of infant nutrition. This is because breast milk is specifically tailored to meet the needs of a growing human being. Commercial infant formulas are cow's milk-based, and while they are good imitations of human milk, science is only able to go so far in duplicating Mother Nature. The compounds in breast milk, and the processes that breast milk undergoes, simply cannot be recreated in a factory. For one thing, breast milk is constantly changing, by shifting the balance of nutrients to meet a baby's changing needs. The taste of breast milk will also vary with mom's diet; this exposure to different tastes can help to enhance food acceptance when the baby is ready for solids. In addition, human milk contains active substances that help the baby to digest and absorb the nutrients, making it easier on tiny tummies.
Breastfeeding can help babies stay healthy.
Breast milk – especially early breast milk – contains immune proteins that help protect babies from infection and illness. Breastfeeding is associated with a reduced risk of ear infection, atopic dermatitis, gastrointestinal infections, lower respiratory tract diseases, asthma, type 1 diabetes, leukemia, and sudden infant death syndrome in childhood and obesity and type 2 diabetes throughout life.  Learn how to prepare for breastfeeding while pregnant.
Breastfeeding is convenient & easy.
Breastfeeding can save mom (or dad) a lot of time and energy – two things that new parents often find themselves in short supply of. There are no bottles and nipples to sanitize and no formula to prepare. Breast milk comes pre-prepared with just the right nutritional makeup and temperature for the baby and can be fed straight from the breast. Plus, it has the added bonus of going wherever mom goes, without lugging bags.
Breastfeeding can save money.
Babies are notoriously expensive. The cost of powdered formula can run as high as $1200 a year.  Concentrated and ready to feed options cost even more; as is often the case, you pay more for convenience. Breast milk, on the other hand, is essentially free, requiring only an additional 300-400 calories per day to support mom's milk production.
Breastfeeding can help mom get her body back.
Fat is the last bit of the baby weight to go. It is also the hardest to get rid of because it is an immense calorie store: 3,500 calories are stored in one pound of fat. Breastfeeding draws on these stored calories to support some of the demands of lactation and thus can help new moms drop the baby weight. Breastfeeding also helps the uterus to contract faster. Suckling by the baby initiates the release of the hormone prolactin from the mother's pituitary gland, stimulating uterine contractions for the duration of feeding and up to about 20 minutes after. These contractions help the uterus return more quickly to its pre-pregnancy size.
Learn more about the benefits of breastfeeding.