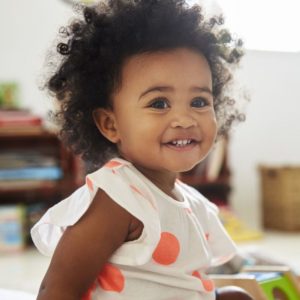 Try these simple steps to feed your toddler and preschooler and healthy!
When my oldest daughter started eating solid foods, I pictured her eating the same healthy stir-fry dishes and casseroles that I made for my husband and myself. I had a rude awakening when she turned two and suddenly wanted chicken strips every night.
While she still loves chicken strips, we've taught her to eat a variety of healthier foods as well. Here are seven simple ways to help your toddler to eat a nutritious diet.
Set a positive example.
Picky parents are more likely to have picky children. Eating new foods in front of your toddlers encourages them to do the same. Try a new vegetable or recipe, and be careful not to show negative reactions if you do not like it.
Involve them in food prep.
My 4-year-old thought she hated celery until she learned to top it with peanut butter and raisins "all by myself," as toddlers like to say. Studies show that teaching young children to cook encourages them to eat more fruits and vegetables, whole grains, fiber, vitamins, and minerals.
Serve happy meals.
Establish mealtime routines that make eating fun and family-focused. Eating as a family allows parents and siblings to model healthy eating. Add to the fun with a creative presentation.
Start a toddler garden.
Replace juices with smoothies.
Did you know that a medium apple with its skin contains nearly 9 times more fiber than a cup of apple juice? Juicing removes nutrients, including fiber—good for all tummies—that are found in the skin and pulp of fruits and vegetables. Many store-bought juices contain sugar and other added ingredients. Break out your blender and mix up some fruit and vegetable smoothies in place of juice. You might be surprised–my kids love my beet smoothies because of their hot pink color!
Appeal to their inner superheroes.
Store the good stuff in plain view.
Both children and adults are more likely to eat foods that are visible and convenient.
Test Your Knowledge:
How much fiber is in one medium apple with skin, compared to one cup of apple juice?
a. The same amount of fiber
b. Half the amount of fiber
c. Nearly nine times the fiber
d. One-third less fiber
Answer: c
Name one way to encourage toddlers to eat healthier?
Answer: store healthy foods in plain sight