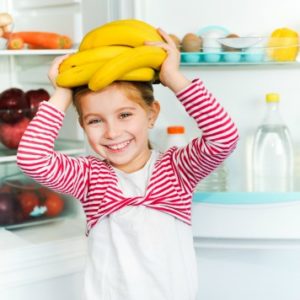 You can maintain your kids' health during the holiday season without sacrificing the sweet traditions. Here are some of our top healthy holiday tips for kids.
Almost every parent experiences how much their kids slow down or become hyperactive after eating holiday foods loaded with sugar, refined flour, and the wrong types of fat. So go ahead and promote healthier habits this holiday season to give your family a head start before the New Year!  Encourage your kids to eat fruits, vegetables, whole grains, & beans; and, don't forget the herbs and spices for immune-boosting benefits. Here are five useful tips to help you succeed.
Make Fruit Visible
Keep fresh fruit out where your family can see it. Pears, apples, bananas, and citrus are in season. Try mandarin oranges or Clementines, which kids love because they're easy to peel. Crab apples are also a hit because they're so tiny and cute.  An edible centerpiece like a Christmas tree made out of berries, kiwis, and melon is a creative way to make fruit festive, too. Make fruit attractive, and kids will eat twice as much.
Focus on Color
Print out this Super Crew color tracker to encourage kids to include four colors of healthy foods in their diet each day. Kids can snack on Clementines, sugar snap peas, antioxidant-rich red peppers, or any other colorful fruit or vegetable instead of a holiday cookie or chocolate truffle.  There is more to a food's color than meets the eye. Every color offers a unique health benefit for your child.
Fruit for Dessert
Take advantage of the delicious variety of available citrus in season. Serve peeled and segmented pink grapefruit with dinner, loose pomegranate seeds (available in some grocery stores or food clubs), or heated frozen fruit. Frozen cherries or fresh apples are delicious warmed on the stovetop or in the microwave served with cinnamon.  Strawberries drizzled with dark chocolate is a sweet dish packed with antioxidants. For more healthy holiday tips for kids, check out our dessert ideas.
Pasta Imposter
Offer your family a tasty alternative to pasta this winter and serve baked spaghetti squash with tomato sauce, sautéed veggies, and turkey meatballs. Your kids will love to help scrape out the 'noodles' from the squash skin. Talk about an easy way to include another delicious veggie serving in for the day. If your kids don't like tomato sauce, serve the spaghetti squash with olive oil, Parmesan and herbs, and spices such as a Mrs. Dash or Trader Joes' 21 seasoning salute.  Bake for a little less time to enjoy the crunchier texture of the noodles.
Terrified by Tofu?
Now is the time to break down those fears, because tofu is rich in protein and calcium, and thus, a fantastic alternative to meat. Tofu can help balance out excess calories during the holidays. Tofu is commonly added to a stir-fry, swapped for meat in soups, used in puddings, added to ricotta for lasagna, and blended into smoothies for a creamier texture and extra protein. Check out this easy fish and tofu soup to cook with your kids.
Use Dessert as a Disguise
Dessert is a great way to incorporate black beans into a meal.  Replace black beans for a portion of the flour to make black bean brownies and boost the fiber, antioxidants, and prebiotics.  Your kids will never believe you hoodwinked them, even after you tell them the secret ingredient in these delicious treats!