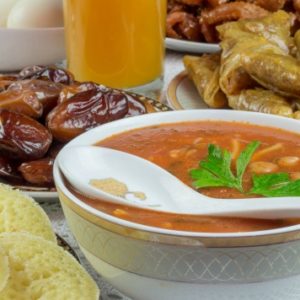 Try these healthy food swaps during Ramadan to prevent weight gain and to make sure you're getting the nutrients you need.
Many Americans and people worldwide practice Ramadan as a month of fasting and it is regarded as one of the five pillars of Islam. During this time Muslims restrain from eating and drinking from sunrise to sunset. It is supposed to be a time of reflection and willpower, yet many individuals tend to gain weight upon breaking their fast. Traditional Ramadan meals involve fatty, high sugar foods that are high in calories and lower in nutrients. Why not swap out some of the ingredients for healthier substitutions? Here are simple ways to continue enjoying popular Ramadan dishes without excess calories.
Date Dips
Although young kids (pre-puberty) won't be fasting, teens and adults traditionally break the fast with dates and some sort of dip such as yogurt cheese – Labneh and tahini (sesame seeds ground into butter).

Swap the date dips for non-fat or low-fat Greek yogurt or make a 50/50 mixture of non-fat Greek yogurt and tahini.
Why? Greek yogurt has twice the protein content of regular yogurts, is an excellent source of calcium, and provides potassium. By replacing a portion of the yogurt with tahini, you're cutting down on calories.
Soup Broth
Soup is a must when breaking the fast, especially when the holy month of Ramadan falls in the summer. This food choice can help hydrate the body. Lentil soup is one of the most popular Ramadan soups. Traditions call for the use of Maggi chicken stock cubes to prepare the soup broth.
Swap the Maggi cubes for roasted vegetable broth.
Why? Stock cubes are high in sodium and may contain monosodium glutamate (MSG), artificial coloring, or other additives that can increase high blood pressure, cause headaches, or other sensitivities in some

kids and adults.

How? Use any vegetables you have on hand or plan to use them in preparing the main meal. You can store veggie scraps in the freezer from cooking the week before to create a broth.

Try to a

void using strongly flavored vegetables such as

cabbage, broccoli, and turnips

that can overwhelm the stock's depth of flavor. Lentil soup is also a great way to sneak in extra veggies and fiber!
Baked Samosa
Ramadan dining tables will most likely include some sort of samosa. Many are stuffed with cheeses, ground meat, vegetables, or spicy potatoes, and then deep fried.
Swap the deep-fried samosa with baked samosa.
Why? Baking maintains the crispness and texture without excess calories from using lots of oil with frying.
How? Cut the cheese and meat by a third and add in extra veggies or offer more of the vegetable samosa. For cooking, use your preferred filling and the same samosa wrapping method, lightly coat the tray with oil, and coat each samosa with up to one teaspoon of olive oil. Let the kids help with this part. Getting kids involved in cooking now, will help them make healthier choices later. Leave space in between each samosa. Bake for about 20 minutes or until the surface starts to brown, making sure to flip them midway.
Mixed Berries Drink
Vimto is one of the most commercial Ramadan drinks. Many families enjoy the cooling sensation and the rich, deep raspberry color. One cup of water is usually prepared with 3 tablespoons of concentrated Vimto, 2 tablespoons of sugar and a few drops of rose water.
Swap the Vimto with a mixed berry drink.
Why? Vimto concentrated drinks contain 130 calories for 3 tablespoons of mainly sugar and artificial raspberry flavoring and colorings. They also contain sodium benzoate and sulfur dioxide preservatives.
How? Prepare the mixed berry drink as if you are preparing a very heavily concentrated smoothie. Use frozen or thoroughly rinsed raspberries, strawberries and blueberries, and place in a blender. Freeze them in ice cube trays or small plastic containers to use during the month of Ramadan. Thaw in the refrigerator before mealtime. Then serve with a few cubes of the homemade concentrate with water and sweeten the taste with a teaspoon of honey or 1-2 ounces of 100% fruit juice such as pineapple or watermelon. Add a couple of drops of rose water and fresh mint leaves for a refreshing taste. Use some of your leftover smoothie concentrates for summer popsicles or smoothie bowls!
Baked Qatayef
Qatayef is a commonly desired dessert served during the holy month of Ramadan. The sweet dumpling paste comes pre-made and cooked on one side (fresh or frozen). The paste is usually stuffed with cream, cheese or nuts, then folded in half and deep fried. The fried dumplings are left to cool and homemade syrup (traditionally made with sugar, corn syrup, and water) is poured on top before serving.
Swap the fried Qatayef with baked Qatayef with a side of syrup for dipping. Or, why not try 100% maple syrup for a new twist?
Why? Baking sustains the crispness and texture without adding excess calories from fat. Also, serving the baked Qatayef with a side bowl of hot syrup, rather than pouring the hot syrup on top of the baked Qatayef reduces the amount of sugar absorbed by the dumpling and the body. By lightly dipping the Qatayef, you'll taste the syrup with each bite.
How? Fill the dumplings with your preferred filling such as unsalted cheese or a mixture of any of pistachios, hazelnuts, walnuts, raisins, and powdered cinnamon. If you love walnuts, use more of these as they help prevent cancer and heart disease. Plus they protect your brain! Fold the dumpling in half and make sure the edges are tightly closed. Lightly coat a tray with oil and coat the dumpling with canola oil or a healthy butter substitute.

Leave space between each dumpling and bake for about 20 minutes or until the surface starts to brown. Make sure to flip them midway. Serve with a side of hot syrup and enjoy!