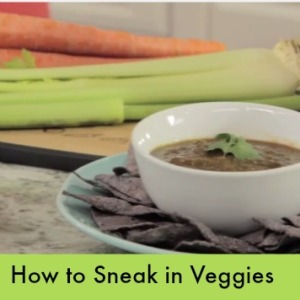 What if you could get more vegetable servings into your kids' diet -while still eating many of the foods you already enjoy?
It is safe to say that most of us could benefit from adding more vegetables to our diet. It can be done! By using vegetable purees, you can amplify the nutritional value of many favorite store-bought or home made foods, such as salsa, soup, or tomato sauce. I use the Champion Juicer for the best consistency, but you can also use a food processor or blender to create pre-prepared veggies to freeze later and add into meals during a busy week. Simply process some of your favorite veggies – such as zucchini, celery, parsley, or carrots -and mix them into your favorite sides, dips or dishes for added flavor, fiber, health benefits and vitamins.
What are simple swaps for jarred salsas and pasta sauces?
Did you know many jarred salsas and pasta sauces contain added refined sugars? By adding puréed carrots or celery to your own homemade salsas and sauces, or by mixing them into store-bought varieties without added sugar, you can naturally add a sweet touch. My favorite way to give salsa more flair and flavor is by putting celery and carrots through the Champion juicer. It quickly minces them into super fine pieces – then I just mix the veggies in.
What are the color benefits of different vegetables?
Vegetables are full of beneficial compounds called phytochemicals. Red foods, such as tomatoes and beets, are wonderful for maintaining heart health and keeping our memory sharp. Green foods, like zucchini and leafy vegetables, help build strong nails, aid in vision and support our immune system. Each color vegetable provides a unique benefit. Tap into these nutritional benefits by finding creative ways to sneak in veggies into your kids' favorite sides or dishes.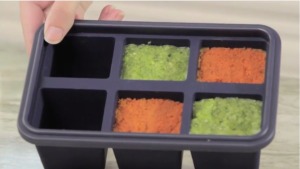 How can you get creative with herbs?
Adding herbs is another way to increase the colors and nutrients in your diet and important in childhood nutrition. Herbs pack a huge nutritional punch, and you can find herbs to complement any dish. Cut back on unwanted calories and fat by choosing low-fat options and using herbs and spices to boost flavor. New research shows that kids prefer low-fat variations of foods with herbs as opposed to the normal versions without the added flavors. For example, make a turkey meatloaf with herbs such as oregano, thyme, and basil instead of regular meatloaf.
Watch this video to see how pureed vegetables can be added into everyday foods! Check out the Champion Juicer, a US made product since 1950, which makes soups, salsas, vegetable purees, frozen fruit desserts, baby food, hummus and of course juice!
For more Champion Juicer ideas, check out our recipes for Healthy Dips, Baby Food & Soup, Fruit Whip, and Nut Butter Dessert.