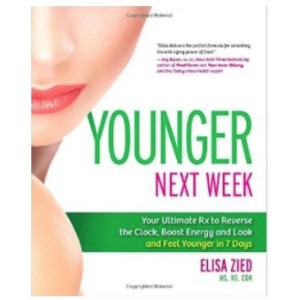 Are you stressed out? Struggling to balance work, family life, and kids? SuperKids Nutrition caught up with leading nutrition expert Elisa Zied, MS RD about her new book, Younger Next Week, which aims to help women take back control of their lives and look and feel younger in just 7 days.
What inspired you to write this book, and what sets it apart from other wellness books?
I was inspired to write this book several years ago after watching many of my close friends go through personal struggles. Each hardship was different, whether it be financial troubles, family issues, unemployment, failing health, or death of a parent, but all were going through significant events that negatively affected how they took care of themselves, both physically and mentally. They were letting worries come before health, and they desperately needed a road map to get back on track.
Younger Next Week is different from other wellness books because it speaks to women who are struggling with stress in their everyday lives. It provides a 7-day Vitality Plan to revitalize your life and slow down the aging process. I used my own personal experience, knowledge from working with clients, and the latest research to help create the anti-aging tips provided in Younger Next Week. I realized that it is vital to find ways to connect with others, sleep soundly, eat well, and be active, no matter what else is happening around you. Using the strategies laid out in my book recently helped me get through a very difficult time, and I hope to help other women do the same.
Many of our readers are moms! Your book is aimed at women in their 40's. What health tip do you wish you knew in your 30's that you know now?
I find that women in their 30's are extremely busy, juggling work, motherhood, and marriage. Because of this, it can be tempting use crash diets that focus on outer appearances rather than inner health. It is critical for them to start taking care of themselves now! Eating healthy, exercising, and learning how to manage stress are key skills that will help them transition smoothly into their 40's. Without these strategies, it can difficult to cope with the craziness that comes with aging.
I wish I had known in my 30's the importance of focusing on health, rather than just weight. The key is to avoid quick-fix diets and strive for lifestyle changes that bring long term health. Your body is like a bank account. You must invest in it over time if you want it to pay dividends when you are older. By living a healthy lifestyle NOW, you can prevent diseases that might crop up later. If you're too busy and stressed right now, allow yourself to reprioritize. Making just a few lifestyle tweaks now can really benefit you in the long run.
Diet and lifestyle factors can positively or negatively affect energy levels. Can you briefly sum up your top 3 tips to feeling your best?
1) Sleep! Aim for 7-8 hours every night to feel as energized as possible during the day. It is important to prioritize sleep and be as consistent as possible with bedtimes throughout the week.
2) Eat regularly. Every meal doesn't have to be extravagant, nor do you have to eat every 2 hours. Eat moderately, enjoying a small meal every 3 to 4 hours. Don't eat if you're not hungry, but don't wait until you are starving. Pair produce with protein to keep blood sugar and energy steady. By making a conscious effort to eat throughout the day, you won't feel starving or lethargic.
3) Stay Active. A body in motion stays in motion. The more you move, you more you want to! I believe in the philosophy, "Move it or lose it." Move your body not only to maintain muscle mass, but also your sanity! Physical activity is a great way to deal with stress, boost your mood, and feel your best overall. Follow the hashtag #moveitorloseit on Twitter for more great tips. Learn how to effectively commit to an exercise routine.
Can you share one of your favorite recipes from Younger Next Week? 
Strawberry-Walnut Cinnamon French Toast
Makes four 1-slice servings.
Preparation time: 10 minutes
Cook time: 10 minutes
Ingredients:
Butter-flavored cooking spray
1 large egg
¼ cup fat-free milk or soy milk or almond milk
½ teaspoon vanilla extract
4 slices whole grain bread
2 teaspoons non-hydrogenated buttery spread (such as Smart Balance)
1 teaspoon honey
¼ teaspoon ground cinnamon
1 cup sliced strawberries
¼ cup chopped toasted walnuts
Directions:
Coat a large skillet with butter-flavored spray and heat it over medium heat.
Meanwhile, in a small shallow bowl, beat together the egg, milk, and vanilla.
Dip a slice of the bread in the egg mixture and turn it to coat evenly. Place the bread slice in the skillet and cook on each side for 2 to 3 minutes, or until golden brown. Repeat this procedure for each slice of bread, cooking the French toast in 1 or 2 batches.
Mix together the buttery spread, honey, and cinnamon in a 3-inch ramekin or a condiment bowl. Spread the honey-butter on each slice of French toast and garnish with strawberries and walnuts. Serve at once.
Vital stats (per serving): 170 calories, 8.2 g fat 1.8 g saturated fat, 49 mg cholesterol, 174 mg sodium, 18 g carbohydrates, 3.2 g fiber, 6 g sugar, 7 g protein.
One serving counts as: 1 starchy carb, ¼ fruit, ¾ protein, ½ healthy fat
Where can I find more information about Elisa Zied and her book, Younger Next Week?
The book can be purchased from amazon.com or your local bookstore. More information can be found on Elisa Zied's website. You can also follow Elisa on Twitter @elisazied, YouTube, and Facebook.