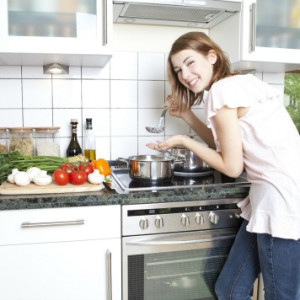 Many celebrities, health gurus, and animal rights activists follow a vegan diet. So it's no surprise if your teenager may be thinking about trying it out. Help him by following the ideas from this vegan sample menu!
While, you may be concerned that this new diet might be counterproductive to your child's health, with some thoughtful planning, a vegan diet can be healthy. Vegans do not eat any animal-based products, including meat, eggs, dairy products, lard, gelatin and foods with ingredients from animal sources. Some vegans don't include honey.
What nutrients and foods should a vegan pay extra attention to?
Vegans are at risk for several nutrient deficiencies as the diet can be low in calcium, vitamin B12 and vitamin D, iodine, iron, zinc and omega-3 fatty acids.  A nourishing vegan diet includes plenty of foods like fruits, vegetables, unprocessed whole grains and legumes, which actually help prevent heart disease, certain cancers, and diabetes. It is important to keep in mind, however, that just because a food is vegan does not necessarily mean it's healthy. Oreos, potato chips, and soda are all vegan, and these are clearly junk! While a vegan diet is not recommended for everyone, a vegan diet rich in a variety of foods, specifically fruits, vegetables, whole grains, legumes, and nuts/seeds can be healthy, balanced, and nutritionally adequate, with some careful planning and supplementation.
How can you help your teen get started with a vegan diet?
If your child or adolescent is considering a vegan diet, it is recommended that they meet with a registered dietitian nutritionist who is open to, and well versed in a vegan lifestyle who can for help in meal planning. Here is a sample menu of delicious, dietitian-approved meals for a vegan high school student.
Calories: 2,100-2,300
Breakfast:
Banana Nut Oatmeal
½ cup steel cut oats made with unsweetened calcium and vitamin D fortified soy milk.
1 tsp. honey (Note: some vegans do not eat honey because it comes from bees. Agave nectar or maple syrup are plant-based sweeteners and can be used instead.)
13 Walnuts
Banana
Cinnamon
Snack:
Chia Pudding
¼ cup chia seeds
1 small banana
1 cup unsweetened calcium and vitamin D fortified coconut milk
1tsp. vanilla extract- optional
Soak chia seeds in coconut milk for 20 minutes (or overnight), then blend with banana.
Lunch:
Avocado Toast
½ ripe avocado
Juice of ¼ lemon
Extra-virgin olive oil
1 slice of whole wheat bread, toasted
Iodized salt
Red pepper flakes
Nutritional yeast flakes (choose a brand fortified with Vitamin B12, like Red Star Vegetarian Support Formula)
Hummus (optional)
Chia, hemp or pumpkin seeds (optional)
Remove avocado pit and scoop flesh into a bowl. Add lemon juice and a light drizzle of olive oil, and mash. Spread on top of the toast. Add hummus if desired. Garnish with red pepper flakes, nutritional yeast and salt. Add a sprinkle of seeds on top for an added boost of fiber and protein!
Enjoy with a side of 1 cup of carrot sticks or celery and 1 small apple, or another seasonal fruit from the list below.
Snack:
Green Smoothie
1 cup spinach
1 small banana
1.5 cup unsweetened vanilla almond milk, coconut milk or soy milk (choose a brand fortified with Vitamin B12) Soy milk contains 7-9 grams of protein per serving, while almond milk contains 1 gram and coconut contains 0 grams. Consider your protein intake through the day when choosing your milk.
1 Tbsp. almond butter
1/2 cup strawberries or other frozen berries
Sprinkle of chia or hemp seeds
Dinner:
Crunchy Veggie Burrito
Whole wheat tortilla wrap
½ C. lentils, or another bean of your choice
1 Tbsp. sunflower seeds
½ C. chopped purple cabbage
2 Tbs. avocado
Tahini sauce
2 Tbsp. tahini
1 garlic clove
Juice of half lemon
1 Tbs. honey mustard (if appropriate) or regular mustard
1 C. carrots, cut into sticks
1 apple, cut into slices
Mash avocado and tahini sauce to make a thick paste, and spread on the tortilla. Top with lentils, cabbage and sunflower seeds, and roll to make into a burrito. Enjoy with carrot sticks and apple slices on the side!
Or
Tempeh Bowl
Dressing:
1.5 tsp. olive oil
2 Tbsp. red wine vinegar
1/3 C. cooked quinoa or 1/3 C. cooked brown rice
1/4 avocado, sliced thin
½ C. chopped red pepper, cooked
1 cup green beans, cooked in:
½ tbsp. olive oil or coconut oil for flavor
Minced garlic clove
3oz tempeh, marinated and cooked in: 1 Tbsp. Tamari or low-sodium soy sauce, 1 Tbsp. fresh orange juice, ½ tsp. ginger and ½ a mince garlic clove
Layer cooked green beans, red pepper, avocado and tempeh over quinoa or brown rice. Serve with mixed green salad on the side.
Dessert
Chocolate Avocado Pudding
Ingredients:
1/2 avocado, chilled
1⁄8 C. vanilla unsweetened almond milk

,

coconut milk or soy milk (choose a brand fortified with Calcium, Vitamin D and Vitamin B12), chilled
1 tsp. vanilla extract
1 tbsp. cocoa powder
2 pitted dates
1 tbsp. honey or agave nectar
Blend together and enjoy!
Seasonal Fruits Per Serving
| | | | | |
| --- | --- | --- | --- | --- |
| Fall | Winter | Spring | Summer | All Year |
| Pear 1 small pear or ½ cup sliced or diced, raw cooked or canned, drained | Clementines 4oz | Apricots 4 or 5.5oz | Apricots 4 or 5.5oz | Apple 1 small or ½ cup sliced or chopped, raw or cooked |
| Persimmon 4oz | Grapefruit 1/2 medium (4″ diameter) or ½ cup sections | Honeydew 1 medium wedge (1/8 of a med. melon) or ½ cup diced or melon balls | Asian Pear ½ or 4oz | Bananas 1 small (less than 6″ long) or ½ cup sliced |
| Pineapple 1/2 cup chunks, sliced or crushed, raw, cooked or canned, drained | Dates 3 small | Lychee 3 | Blackberries 1 cup | Papaya 1 cup, 8 oz or half of one |
| Guava 2 small or 2.5oz | Kiwi 1/2 c sliced | Mango 1/2 small or 1/2 cup or 5.5 oz | Blueberries 3/4 cup | |
| Grapes ½ cup whole or cut-up, or 16 seedless grapes | Oranges 1 small (2-3/8″ diameter) or ½ cup sections | Oranges 1 small (2-3/8″ diameter) or ½ cup sections | Cantaloupe 1 medium wedge (1/8 of a med. melon) or ½ cup diced or melon balls | |
| Kumquats 17 or 3oz | Persimmon 4oz | Strawberries 1/2 cup whole, halved, or sliced (~4 whole berries) | Watermelon ½ cup melon balls or diced (~6 melon balls) | |
| Pomegranate ½ C | Pear 1 small pear or ½ cup sliced or diced, raw cooked, or canned, drained | Pineapple 1/2 cup chunks, sliced or crushed, raw, cooked or canned, drained | Raspberries 1 cup | |
| Cranberries ½ cup fresh or ¼ cup dried | Pomegranate½ C | | Nectarines 1 medium or 5.5oz | |
| | | | Peaches 1 small (2″ diameter) or ½ cup sliced or diced, raw, cooked, or canned, drained | |
| | | | Plums 1 large plum or ½ cup sliced, raw or cooked | |
| | | | Cherries 12 or 3.5oz | |