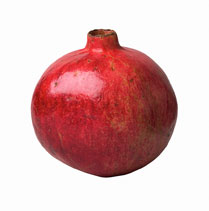 Want to learn more about the sweet, crunchy, and nutrient-packed pomegranate? Read about where it comes from, the health benefits, and ways to eat it!
Punica granatum, commonly known as Pomegranate, is a small fruit-bearing plant native to Iran. The name comes from French, pomme garnete, literally translated to "seeded apple." Traditionally the fruits and seeds were valued for their culinary use by people from India to the Mediterranean region, and they symbolize abundance, fertility, and good luck.
What part of the pomegranate can you eat?
The edible parts of the fruit are the seeds and the red seed pulp surrounding them. Pomegranate seeds are a great source of fiber, and the juice contains vitamin C, potassium, iron, and polyphenol antioxidants. Three types of polyphenols – tannins, anthocyanins, and ellagic acid – are present in particularly high levels in pomegranate juice, and have the most powerful health benefits. Recent scientific research has revealed many health-promoting effects of pomegranate.
How can you benefit from eating pomegranate?
May reduce heart disease risk factors.
May have cancer preventative effects and may reduce the reoccurrence of prostate cancer.
May slow the progression of Alzheimer's disease.
Could contribute to healthy blood pressure.
Significant antioxidant effects can prevent cell damage which may contribute to disease.
May positively affect osteoarthritis, viral infections, and dental plaque.
Eating Tips
Pomegranate in the grocery store is ripe and ready to eat.
Mix 1 ounce of pomegranate juice to flavor another super food, kefir milk.
Cut fruit about half an inch from the top of crown, then cut or tear following natural dividers within the pomegranate. Turn the grouping of seeds face down over a large deep bowl to keep juice from splattering and gently pull. They will easily pop out.
Sprinkle seeds on salads, soups, and desserts.
Eat them plain in a big bowl, with yogurt or a frozen fruit sorbet.
Use juice for meat marinades, preserves, dips, dressings, and sauces.
Create festive beverages with seed and juice mixtures.
Kids love the juicy flavor with each delicious bite.
Pomegranate Safety Issues: Consult a licensed medical doctor before taking any pomegranate products if you are taking any prescription medication to avoid drug/food interactions.
Learn more about the health benefits of red foods with Baby Tom Tom!