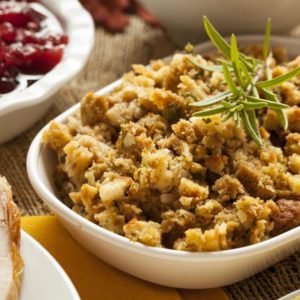 Take a look at these plant-based Thanksgiving options to make your dishes healthy, delicious, and nutritious for the whole family.
While the traditional Thanksgiving feast typically focuses on roasted turkey, gravy, honeyed ham, green bean casserole with bacon, and tons of other tasty dishes, many contain meat or dairy. Do you follow a plant-based diet, have a relative who is vegan or vegetarian, or simply want to add more plants to your table to cut down on animal fat and boost those plant-based nutrients? Whatever your motive, it is possible to add more plant-based foods to your feast without sacrificing flavor. Start with these plant-based Thanksgiving ideas.
Keep in mind that rather than completely eliminating the meat and dairy, you can try out one or two of the swaps below to mix things up! You can also get the best of both worlds by serving both the traditional dish and the alternative version.
This T-day, get creative experimenting with tasty ways to add more plants to your meal—you may be surprised to find new dishes the kids will LOVE! Here are some ideas to get you started:
Add some new plant-based dishes to the mix!
While there is something special about those traditional Thanksgiving recipes, you can also add new dishes to the table! Roast some root vegetables, make Amaranth Cornbread, opt for homemade Kiwi Cranberry Sauce, prepare a salad with seasonal produce, try this Zesty Kiwi Quinoa Holiday Stuffing, or get creative with tofu and bean dishes. A hearty vegetable soup loaded with beans and legumes will boost up bulk – add this Easy Yummy Lentil Soup to the table!
Want to try something completely new this year? Stop by the farmer's market to find new ingredients, then look up recipes to find tasty ways to prepare what you find.
Focus on fiber in your mashed potatoes…
Try cauliflower mashed potatoes! Instead of using potatoes for the whole recipe, make 1/3 of the mix pureed cauliflower. The combo will slash the calories and boost the fiber, and no one will even notice!
…and boost plant-based options in your gravy, too!
Make gravy with vegetable broth and herbs, lighten it up with some white wine, and thicken it with all-purpose flour. Herbs pack a punch with health-promoting phytonutrients!
Alongside your roasted turkey, add a plant-based turkey alternative
There are a variety of different vegan turkey alternatives available at the grocery store. Consider trying a new brand each year until you find one you and your family love!
TIP: When it comes to tasting a meat alternative, try framing it in your mind as a new and unique food, rather than as a meat substitution. Keep an open mind, and you may end up discovering a new food you like!
Experiment with plant-based desserts
Making desserts plant-based is not only possible, but you can do so while still making them absolutely decadent and delicious. Here's how to make simple swaps in your favorite dessert recipes:
Does your pie crust recipe call for butter or lard? Swap it out for an equal portion of olive or canola oil.
Experiment with using applesauce or sweet potatoes instead of some of the butter in baked goods such as cookies, sweet dessert bread, and brownies.
Does your dessert call for eggs? Flax or chia seeds soaked in water make great, vegan egg replacements!
Try these other super simple swaps
Many Thanksgiving dishes are mostly plant-based but contain a small amount of animal-based ingredients. Look through your recipes for the following ingredients, and consider these easy swaps:
Use vegetable broth instead of chicken broth
Swap bacon bits for vegetarian 'bacon' bits, or try roasted pecans instead!
Instead of butter, use your favorite plant-based oil or margarine
Make plant-based gravy by using vegetable oil and vegetable broth
Use whole grain bread for your stuffing
The bottom line
Thanksgiving is a time to celebrate the seasonal bounty, spend time with family and friends, and cultivate gratitude for the things in our lives. Family traditions are a special part of the holiday, and many of these traditions center around food. This Thanksgiving, get excited making healthy holiday choices, trying new plant-based Thanksgiving recipes, and creating some NEW family traditions!
Looking for more plant-based ideas? Check out my cookbook, The Plant-Based Boost, 100+ Recipes for Athletes and Exercise Enthusiasts.