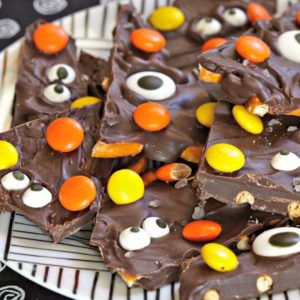 We've created this peanut and nut-free candy guide for your children to howl about this Halloween! Keep your mind at ease while still having fun.
Does your child have a peanut or nut allergy, leaving you worried about what lurks in their candy bag this Halloween? Use this Halloween guide to help your kids decide what is safe to eat at school or when trick-or-treating! Here are six tips to make sure you all have a safe and Happy Halloween with peanut and nut-free candy.
Check the ingredients with your child
Toss out candies that do not have nutrition fact labels and ingredient lists. Nut sure what hidden nut ingredients to look for? Avoid these not so obvious peanut and tree-nut ingredients, and check out our allergy article for even more names:
Peanuts (1)

Arachis oil (another name for peanut oil)
Goobers
Lupin (or lupine)
Mandelonas (peanuts soaked in almond flavoring)

Tree Nuts (2)

Filbert (hazelnut)
Gianduja (a chocolate-nut mixture)
Marzipan
Praline
Make sure your child has her epinephrine pen at all times
Review how to use it in case of an emergency if you aren't around!
Highlight nut-free candy alternatives
Reassure your child that there are plenty of other safe and delicious candies to enjoy. You can even promise some home-made, allergy-friendly treats. Here is a list of some peanut-free and nut-free options:
Caramel Apple Pops (3)
Blow Pop (4)
Junior Mints (5)
Tootsie Rolls (6)
Andes (7)
Cry Baby (8)
Dots (9)
Start new traditions
Make some nut-free adorable dishes that become a Halloween tradition, like this vampire pasta or boo-licious pops.
Plan ahead
Do some shopping ahead of time so you can drop off some peanut and nut-free candies to your neighbors. Ask them to hand them to your child when he/she comes knocking. Describe your child's costume to your neighbor so they can spot him out of the crowd!
Save the candy for at home
Hold off on eating candy until you both get home and have time to review the ingredients label for the A-okay. Check for artificial dyes or coloring if your child is sensitive to these as well. Encourage your child to focus on the trick-or-treating experience – look at all the haunted houses and cool costumes!
Have non-food goodies on hand
You can swap these non-food prizes for the questionable candies. If you're at a loss of ideas for what to buy, start by choosing from this list:
Stickers
Erasers
Pencils
Bouncy balls
Glow sticks
Temporary tattoos
"Scary" accessories
Now that you've figured out how to create a safe and nut-free Halloween for your little superhero or monster, take a look at our food allergy articles that dive even further into how you can help your kid with a peanut or nut allergy.
Next check out our free printable Super Crew's Healthy Halloween Guide, a perfect hand out to make this holiday fun at home or school.