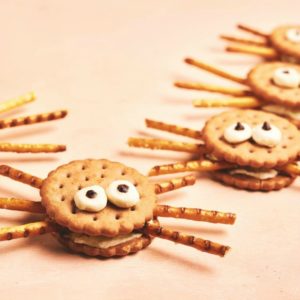 Look no further for healthy Halloween recipes. These easy and tasty ideas will keep your kids active and busy in the kitchen!
Looking for additional ways to make Halloween even more exciting this year? Celebrate the holiday season with these fun and healthy Halloween recipes for snacks, treats, and drinks.
Scrumptious Spiders
Use all-natural peanut butter and whole-wheat crackers to make a peanut butter sandwich spider body, then use pretzel sticks as your creepy crawly spider legs!
Mini Jack-O-Lanterns
These adorable mini jack-o-lanterns are a fun, low-mess after school snack to make with your little ones, and may help your child feel excited about fruits and veggies! To make this charming and simple citrusy treat, allow your child to peel a clementine orange. Then, slice a small piece off of a celery stalk, and have them place it in the top of their clementine to create the stem!
Magic Munch Trail Mix
This black and orange trail mix makes the perfect healthy holiday-inspired snack or party mix. Mix and match whole-grain cereal, air-popped popcorn, pretzels, dry-roasted nuts, raisins, cut up dried dates, dark chocolate chips, and orange dried fruits such as apricots, mango or papaya.
Andy's Spiced Pumpkin Smoothie
When it comes to pumpkins, think beyond the jack-o-lantern this year! Try this tasty pumpkin smoothie as a nice spiced snack or balanced breakfast. Simply blend together pumpkin puree with almond or low-fat milk, cinnamon, nutmeg, oatmeal, and a splash of blackstrap molasses (which is also great for holiday gingersnap cookies!) or honey for a touch of sweetness. Optional additions include a scoop of low-fat or fat-free Greek yogurt for extra protein and a spoonful of nut butter for some healthy fat.
Monster Mint Smoothie
This minty fresh and monstrously green drink is so good, you might just forget that it's loaded with veggies! It will keep your energy roaring so you can trick (or treat) all night long. Combine the following in a blender and blend until smooth:
• ½ cup baby spinach
• ½ avocado
• 1 large ripe or frozen banana
• A few fresh mint leaves
• Dark chocolate chips or 2-3 Tbsp of sweetened cocoa
• Skim milk or favorite non-dairy milk
• A few ice cubes
Cinnamon Maple Roasted Pumpkin Seeds
Are you stuck with a pile of pumpkin seeds after an afternoon of pumpkin carving? Think again before you toss the pumpkin seeds in the trash! Roast them up with some tasty holiday flavors instead! This healthy Halloween cinnamon maple pumpkin seed recipe is a definite crowd-pleaser. You can eat these scrumptious seeds on their own as a snack, add them to salads, toss them into your favorite granola or trail mix, use as a yogurt topping, or blend them up to make homemade pumpkin seed butter! In the mood for savory seeds? Trade the sweet for some heat by swapping the seasonings below with garlic and chili powder.
Ingredients: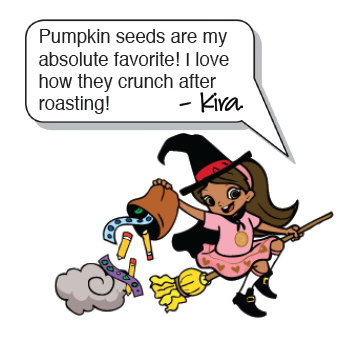 1 cup roasted, unsalted pumpkin seeds
½ tbsp cinnamon
¼ tsp vanilla extract
¼ tsp nutmeg
1 pinch of allspice
¼ tsp salt
1 tsp pure maple syrup
Steps:
Preheat oven to 350 °F and line a baking sheet with parchment paper or foil.
Clean your pumpkin seeds by rinsing well under running water, then pat dry with a towel.
Spread your seeds out evenly on the baking sheet, and bake for about an hour, stirring occasionally. Then remove them from the oven and allow them to cool.
Once your seeds have cooled, combine them with the remaining ingredients in a bowl and mix well.
Increase your oven temperature to 400 °F.
Add oil or non-stick cooking spray to your lined baking sheet, then spread your seasoned seeds evenly onto your baking sheet. Allow them to bake for another 10-15 minutes, and enjoy when cooled!
Ask your kids which of these fun food ideas they want to try, make sure you have all of the ingredients on hand, and put your creative chef hats on!