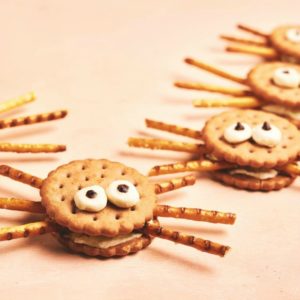 Stay on track with your family's health goals while making easy and tasty healthy Halloween treats for kids that can satisfy any sweet tooth.
We're not saying to give up your Halloween candy—sweet treats can fit into your family's diet. But this year, carve out extra time to create healthy Halloween treats for kids that can keep excess sugar load in check. Plus isn't Halloween SO much more than just a candy palooza?
Have fun making your tastebuds boo-gie by creating these healthy Halloween recipes, snacks, treats, and drinks to enjoy throughout the holiday season!
How to Buy Healthy Halloween Candy
Finding healthy Halloween treats for kids can be a s-t-r-u-g-g-l-e. Most conventional items are abundant in artificial flavors, high-fructose corn syrup, and a lengthy list of unrecognizable ingredients. While parents can always go homemade, it may not be feasible when balancing decorations, kid costumes, household chores, work, and more. So instead, check out these healthy Halloween candies that do the trick for your kiddo's treat.
Justin's Dark Chocolate Peanut Butter Cups
Unreal Dark Chocolate Quinoa Crisps
Sjaak's White Chocolate Ghost and Green Apple Slime
Bear Fruit Rolls
Healthy Halloween Recipes
Get creative with your cooking! Transform everyday ingredients into spooky creations to kick start the holiday season. For food-spiration, check out these parent-approved healthy Halloween treats for kids.
Learn how to make each of these healthy Halloween treats for kids below!
1. Peanut Butter Cracker Scrumptious Spider Snacks
Use all-natural peanut butter and whole-wheat crackers to make a peanut butter sandwich spider body, then use pretzel sticks as your creepy crawly spider legs!
2. Mini Clementine Orange Jack-O-Lanterns
These adorable mini jack-o-lanterns are a fun, low-mess after-school snack to make with your little ones, and may help your child feel excited about fruits and veggies! To make this charming and simple citrusy treat, allow your child to peel a clementine orange. Then, slice a small piece off of a celery stalk, and have them place it in the top of their clementine to create the stem!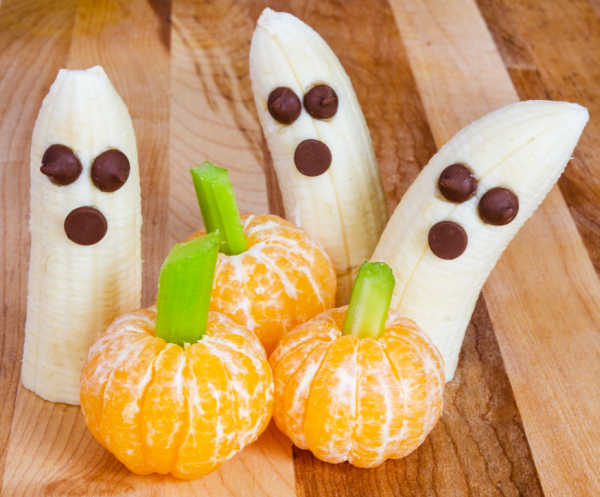 3. Magic Munch Black and Orange Halloween Trail Mix
This black and orange trail mix makes the perfect healthy holiday-inspired snack or party mix. Mix and match whole-grain cereal, air-popped popcorn, pretzels, dry-roasted nuts, raisins, cut up dried dates, dark chocolate chips, and orange dried fruits such as apricots, mango, or papaya.
4. Super Crew Kid Andy's Spiced Pumpkin Smoothie
When it comes to pumpkins, think beyond the jack-o-lantern this year! Try this tasty pumpkin smoothie as a nice spiced snack or balanced breakfast. Simply blend together pumpkin puree with almond or low-fat milk, cinnamon, nutmeg, oatmeal, and a splash of blackstrap molasses (which is also great for holiday gingersnap cookies!) or honey for a touch of sweetness. Optional additions include a scoop of low-fat or fat-free Greek yogurt for extra protein and a spoonful of nut butter for some healthy fat.
5. Monster Chocolate Mint Smoothie
This minty fresh and monstrously green drink is so good, you might just forget that it's loaded with veggies! It will keep your energy roaring so you can trick (or treat) all night long. Combine the following in a blender and blend until smooth:
• ½ cup baby spinach
• ½ avocado
• 1 large ripe or frozen banana
• A few fresh mint leaves
• Dark chocolate chips or 2-3 Tbsp of sweetened cocoa
• Skim milk or favorite non-dairy milk
• A few ice cubes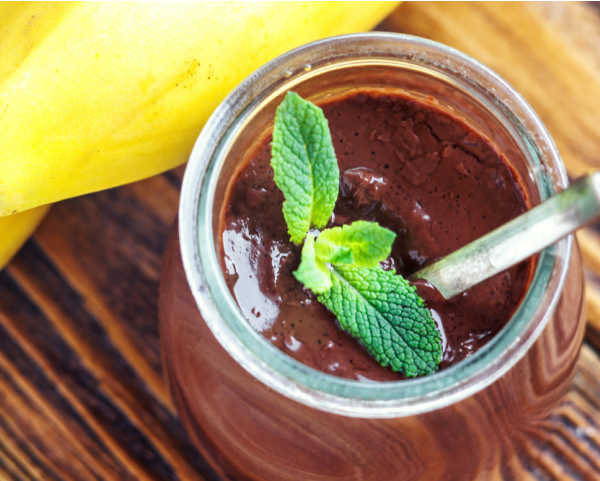 6. Cinnamon Maple Roasted Pumpkin Seeds
Are you stuck with a pile of pumpkin seeds after an afternoon of pumpkin carving? Think again before you toss the pumpkin seeds in the trash! Roast them up with some tasty holiday flavors instead! This healthy Halloween cinnamon maple pumpkin seed recipe is a definite crowd-pleaser. You can eat these scrumptious seeds on their own as a snack, add them to salads, toss them into your favorite granola or trail mix, use as a yogurt topping, or blend them up to make homemade pumpkin seed butter! In the mood for savory seeds? Trade the sweet for some heat by swapping the seasonings below with garlic and chili powder.
Ingredients: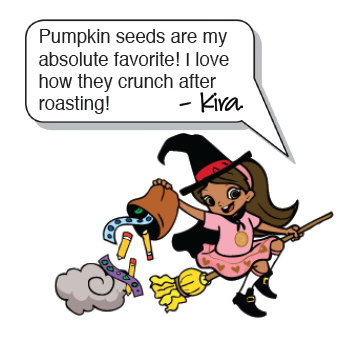 1 cup roasted, unsalted pumpkin seeds
½ tbsp cinnamon
¼ tsp vanilla extract
¼ tsp nutmeg
1 pinch of allspice
¼ tsp salt
1 tsp pure maple syrup
Steps:
Preheat oven to 350 °F and line a baking sheet with parchment paper or foil.
Clean your pumpkin seeds by rinsing well under running water, then pat dry with a towel.
Spread your seeds out evenly on the baking sheet, and bake for about an hour, stirring occasionally. Then remove them from the oven and allow them to cool.
Once your seeds have cooled, combine them with the remaining ingredients in a bowl and mix well.
Increase your oven temperature to 400 °F.
Add oil or non-stick cooking spray to your lined baking sheet, then spread your seasoned seeds evenly onto your baking sheet. Allow them to bake for another 10-15 minutes, and enjoy when cooled!
Halloween Activities
If you want other fun ways to keep the kids entertained with a strong Halloween spirit, try these free Halloween printable kids activities.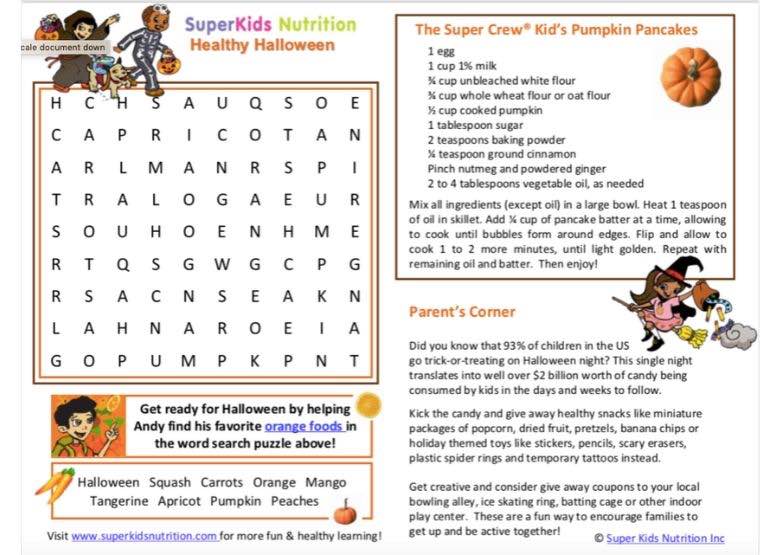 Healthy Halloween with Andy – This Halloween-inspired word search will get your child excited for orange foods and take their minds off the candy. Your whole family may even develop Andy's superpowers if you decide to make his delicious pancakes on Halloween!
Andy's Guide to a Healthy Halloween – Brainstorm healthy orange foods together that you can serve at your Halloween party or before you go trick-or-treating to keep your sweet consumption in check.
Healthy Halloween Fun – Have your child complete the word challenge to enhance their spelling and problem-solving skills.
Halloween Health Tips
This holiday can feel overwhelming for parents who strive to keep a healthy household. But creating long-lasting Halloween memories doesn't have to result in a sugar frenzy. Use these tips to enjoy a healthy Halloween that's fun for the entire family.
Eat before you trick or treat
Be a good role model
Save it for later
Enjoy candy with others
Find other ways to get festive
1. Eat before you trick or treat
Going door to door to collect candy takes a lot of time and energy. To avoid h-angry kids and parents, fuel with a nutritious meal or snack before hitting the streets. Not only is it better for morale, but it can also help minimize an unwanted sugar overload once home.
2. Be a good role model
Kids pick up on everything! Whether it's what parents or siblings say, do, or eat, children want to be just like their household hero. So, it's critical to lead by example and avoid overindulging on sweet treats to help demonstrate healthy habits to your kiddo.  
3. Save it for later
While Halloween may occur once a year, the candy collection sticks around for a while. Avoid a sugar overload by reassuring your kiddo that another treat can get enjoyed tomorrow or the next day. You may be surprised that with this approach, you end up discovering a bag of expired Halloween loot while getting ready for Christmas or Hanukkah.
4. Enjoy candy with others
Sharing is caring! Encourage your child to keep half of their hard-earned candy and donate the rest to charity. It allows kids to enjoy their treats while helping less fortunate members of the community. Talk about embracing the holiday spirit!
5. Find other ways to get festive
Halloween is about more than sweets! Enjoy family fun by decorating the house, carving spooky pumpkins, visiting an apple orchard, or enjoying printable Halloween activities with the Super Crew.
Ask your kids which of these fun food ideas they want to try, make sure you have all of the ingredients on hand, and put your creative chef hats on!