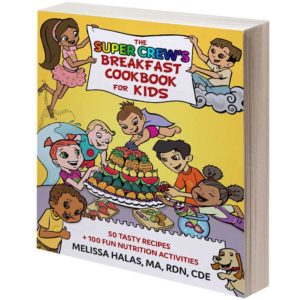 Meet your new favorite kids cookbook: The Super Crew's Breakfast Cookbook for Kids, 50 Tasty Recipes + 100 Fun Nutrition Activities, a delightful way to get you and your child curious about cooking and plant-forward eating.
Author: Melissa Halas, MA, RDN, CDE
What is this book about?
The Super Crew's Breakfast Cookbook for Kids, 50 Tasty Recipes + 100 Fun Nutrition Activities is not your typical cookbook. While this book does include 50 kid-friendly, healthy, mouth-watering recipes, it is also interactive and engaging.
Halas' ingenuity is reflected via the cookbook's stars, the Super Crew, a group of eight children who get their powers from plant foods. What child would not want to eat red radishes, orange squash, or green kiwis to gain "superpowers" from the beneficial plant compounds? The Super Crew takes the readers on a journey, introducing delicious and unique breakfast recipes such as apple-carrot streusel muffin cups, strawberry oat scones, blackberry chia pudding, and amaranth porridge.
Yet this book does more than provide ingredient lists; it encourages children to learn about the recipes, teaching them about anthocyanins found in blueberries, beta-glucan in oats, and potassium in bananas. This book is brimming with nutrition insights as much as it is with cinnamon swirled delights.
Beyond the creative recipes and plant teachings, The Super Crew's Breakfast Cookbook, 50 Tasty Recipes + 100 Fun Nutrition Activities truly stands out with its inclusion of an astounding 100 interactive and imaginative activities. These include word scrambles, connect-the-dots in the shape of a fruit, coloring pages, "spot the differences" between two pictures, and more. Many activities encourage children to become curious and adventurous eaters, suggesting a game to taste spices and flavors such as cardamom, ginger, or lime.
Children are included in all stages of the cooking process, inviting them to pick out toppings for a smoothie bowl, to draw a whole grain they plan to eat that week or to join a trip to the farmer's market. Children are prompted to set goals to reinforce these healthy eating habits: what new way will you eat pineapple this week, and what herbs will you add to your eggs? This book is a testament to Halas' food philosophy in which eating is about nourishing our bodies, connecting with loved ones, and creating cherished memories. It's the type of cookbook you will want to read over and over, discovering something new each time and having a blast along the way.
Tips for reading this book:
Choose one new recipe to make each week. Allow your child to choose a recipe she thinks looks exciting and make it together.
Help your child with the more challenging activities through the hints, clues, and helpful links.
Find kitchen gadgets for kids that will help your kids get busy blending, processing, peeling, and chopping in the kitchen.
Visit the Tools and Resources section of the SuperKid's website to access age-specific printable cooking guides to determine appropriate tasks for your child in the kitchen.
Check out the Super Crew Breakfast Cookbook for Kids resource page for additional insights to support you and your children on your cooking journey.