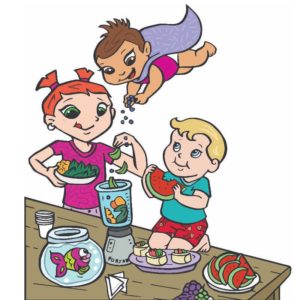 Looking for kitchen gadgets for kids? If you're just beginning to cook, or want to save time, these tools will make it much easier! Here's a starter list to becoming a kitchen pro.
Always supervise children and teach them safe ways to use kitchen gadgets and appliances. From turning them on to washing them carefully, let them be involved based on their age level and interest. We've packed this post with our favorite kitchen gadgets to make it easy to find any gadgets you may be missing. These tips were created to accompany The Super Crew Breakfast Cookbook for Kids, 50 Tasty Breakfast Recipes, + 100 Fun Nutrition Activities, check it out!
This post contains affiliate links. As an Amazon Associate, we earn from qualifying purchases. The links are noted with an asterisk (*) or Amazon image.
Food Processor
We prefer a medium-size food processor like the Cuisinart 8 Cup Food Processor* over a mini one as it's not as noisy and does a better job. This will help speed up chopping and slicing vegetables, making sauces, dips, or spreads, and pureeing things like soups. Kids can push the button to blend or chop.
Blender
Blenders are perfect for smoothies, soups and even milling flours – the process of taking a whole grain and turning it into flour, e.g., turning whole oats into oat flour. Kids can help pour ingredients into the blender, cover the lid tightly and turn on and off. NutriBullets* are both easy to use and to clean up! Don't forget about immersion blenders too, like the Cuisinart Smart Stick*. They work just as well and kids have a lot of fun using them. Have the kids try blending a cold soup for a creamy mixture!
Spatulas
Rubber and wooden – different sizes and shapes will make cooking easier. Oxo Grips spatulas* come in a range of sizes!
Silicone Brush
These are great for coating pans or foods lightly with oil, or lightly coating muffins with honey. Kids will have fun painting pans and foods with silicone bristles. Plus, they can choose from a variety of colors! The silicone brush from M Kitchen World* has a fun orange tip. The best part is that these brushes are dishwasher safe!
Veggie Peeler
A big grip peeler will speed up the prepping process and keep fingers safe. The great thing about kitchen gadgets for kids is that they make these with kid-friendly adjustments in different shapes, sizes, and colors. We love this cute bird peeler!
No-Slip Mat
This is useful for under dishes and cutting boards. The name says it all – no-slip, no surprise accidents!
Measuring Spoons & Cups
Ideally two sets – one for you and one for the kids – in both cups and teaspoon/tablespoon increments. Lightweight sets like the Curious Chef's Spoon Set* and Curious Chef's Measuring Cup Set* work best for kids. *Note Tablespoon is abbreviated Tbsp. and a teaspoon is abbreviated as tsp. We also love metal sets because they last forever and are dishwasher safe.
Mixing Bowls
Great for separating different components of meals, combining food ingredients, and mixing. There are sets of different sizes, or you can buy them individually in a variety of sizes. Buying stackable helps save space. Look for those with lids too to avoid using plastic wrap. Non-slip bases are helpful when cooking with the kids too!
Inexpensive Dish Towels
Keeping a stack of towels out for quick wipes makes cleaning as you go less stressful when cooking with kids. Buying carwash towels at a warehouse grocery store is very economical. Because they're all white, you can bleach them when necessary.
Vinegar and Water Spray Bottle
Use a mixture of 1/3 to 1/2 cup vinegar to water for easy cleanup that won't harm your kids!
Nylon knives
These are great for kids 5 and up to cut softer foods. They have ergonomic handles for small hands, and are very colorful! We like this 8 piece knife set* because it includes knives for ranges of foods.
Knives
A good, sharp set of knives of different sizes makes prepping ingredients so much easier – especially for those more delicate foods like tomatoes. Just be sure to teach and supervise!
Can Opener
Handy for all of the healthy canned foods like beans, chickpeas, tomato sauce, and tuna.
Silicone Covers
These are great to prevent spills and splatters in the microwave. Plus they can keep food prep bowls covered in the fridge or counter.
Whisks
It's best to get a few sizes, ideally dishwasher safe. Once again, we recommend silicone whisks that are naturally dishwasher safe! Oxo has a great one with a think handle to kelp the kids.
Time to Use These Kitchen Gadgets for Kids!
Now that you have a complete list of tools to cook with the kids, it's time to get experimenting in the kitchen!