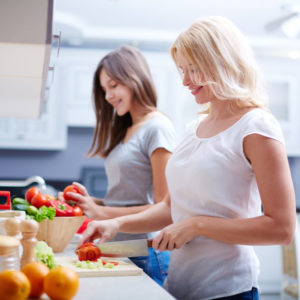 Get your teen interested in cooking for themselves and the whole family with these simple strategies!
Do you ever find yourself driving home from work after a long, busy week daydreaming about dinner being on the table when you get home? You start thinking to yourself, "Gosh, wouldn't it be nice if my teen could make dinner once or twice a week?" You stop at the stop sign, and suddenly you snap out of it and shout "That's it!"  Yes, your window is down, and everyone is looking at you, but you don't care because you just thought of a way to get help!
Any parent knows that no two teens are alike, but one thing they all have in common is wanting to be treated like grown-ups – except, of course, when it comes to chores. The growth that takes place during adolescence can seem sudden and get you questioning where your little kid went. It is almost as if one day they open their bedroom door and out walks a teenager demanding to be treated like an adult!
So how do you persuade your teen to help with chores, and more specifically, dinner? What you need is a good strategy to make it seem less like a chore and get them eating right out of your hand! Here are some tips to put in place:
Strategic Tips for Planning Meals with Teens:
Decide on a time to get together and plan meals with a simple cooking schedule for the week.
Look through the weekly ad for sale items to help decide what might be best to cook. This is a good lesson to help teach your teen about how to build meals on a budget and create composed healthy meals.
If they are interested, let them grocery shop for the food items they are going to prepare. This is an opportunity to teach your teen the importance of a shopping list (a plan!) and attention to the cost of items. Your teen will feel like they are a mature adult while you can cross another item off your "To-Do List."
Communication Tips with Teens:
Be honest. Let your teen know you need their help. This makes them feel important and needed.
Talk with your teen and find easy meals they feel they can cook with confidence. Let them know you are there for assistance if they need it.
Give them lots of praise and compliments; it goes a long way. Tell them how proud you are and how much you appreciate their help.
Meal Tips for Teens:
In advance, help your teen by choosing a meal that everyone in the family likes and will eat. This is a good way to boost their confidence.
When possible, make meal prep quick and easy by pre-washing and pre-chopping fruits and vegetables the day before cooking.
Make it fun. The slicing, dicing, washing, and grating can all be done while singing and dancing to their favorite tunes!
Let them navigate the kitchen in their own way. Hold back on telling them to use fewer dishes or prep food in a different way. Once you start nagging about something, they will be turned off from the task.
Be patient. It's all new to them! Soon it will be part of their routine and, thanks to you, they learned another life-long skill. But for now, hearing those magic words "stay out of the kitchen mom!" will sound like music to every mom's ears!
But, what about those days when no one's around to help? Break out the crockpot! For a few easy family meals check out these crockpot recipes.