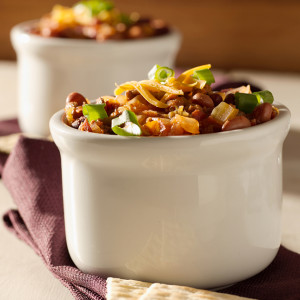 Here are 10 simple whole food dinners that are filled with color, good-for-you nutrients, and delicious flavors! Rotate them throughout the weeks so that you always have an option on hand!
Black Bean Corn Tacos
Black beans, sliced avocado, shredded romaine, salsa and shredded cheese in corn tortillas. Pineapple chunks for dessert.
Sweet Potato, Cauliflower, and Chicken Plate
Roast boneless, skinless chicken thighs along with cubed sweet potato and cauliflower florets. Marinate chicken and vegetables separately overnight in plain yogurt and Indian spices. Serve frozen fruit kebabs for dessert.
Simple Stir-Fry
Stir-fried leftover brown rice with chopped onion, garlic, ginger, peas and chill with two beaten eggs in canola oil – seasoned with soy sauce and sesame oil and topped with scallions. Sliced apples with cinnamon or ground cardamom for dessert.
Herby Parmesan Pasta
Whole-wheat penne with shredded zucchini, garlic and herbs sautéed in olive oil topped with grated parmesan. Fresh strawberries for dessert.
Veggie Egg Scramble
Scrambled eggs with lightly sautéed chopped onions, served in broiled portobello mushroom caps with olive oil. Vanilla frozen yogurt and blueberries for dessert.
Chickpea Pitas
Chickpea burgers with chopped tomatoes, cucumber, red onion, and tahini sauce served in whole-wheat pita pockets.  Fresh fruit puree popsicles for dessert.
Salmon Cakes with Sweet Potato
Salmon cakes made with canned wild salmon, scallions, olive oil, lemon juice, and parsley and egg served with baked sweet potato wedges. Frozen cherries blended to into sorbet consistency in food processor or blender.
Turkey Chili and Cornbread
Chili with lean ground turkey, barley, bell peppers, zucchini, onion, garlic, and tomato sauce served with whole-grain cornbread. Grapefruit and orange segments for dessert.
Marinated Chicken with Broccoli
Baked chicken breasts marinated in lemon juice, orange juice, white wine vinegar, oregano, chili powder and paprika served with steamed broccoli or broccolini.  Plain Greek yogurt topped with mango chunks for dessert.
Scallops and Couscous
Sautéed sea scallops and cannellini beans served with spinach cooked with garlic and olive oil and side of whole wheat couscous. Two whole-grain graham crackers with 1 Tbsp peanut butter for dessert.