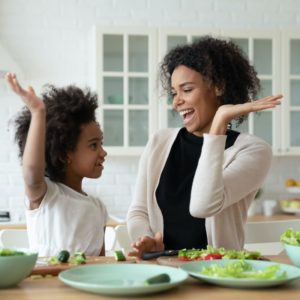 It's not just an "older person thing." Learn why colon cancer prevention should start early with kids and teens!
In one year, two young women in my circle of thirty-year-old friends got diagnosed with colon cancer. Colon and rectal cancers are the third leading cause of cancer in men and the second leading cause of cancer in women worldwide. While it may feel scary or overwhelming to think about, it's never too early to start taking preventative measures. It's time to take a closer look at how to help kids prevent adult cancers later.
If you knew that more than forty-five percent of colorectal cancer cases in the US are preventable, would you change your lifestyle? The American Institute for Cancer Research (AICR) has the inside scoop on what to eat, how to get moving, and how to maintain a healthy weight. Put the odds in your family's favor and take action to help decrease their risk of cancer.
Healthy Eating & Foods to Prevent Colon Cancer
Much like everything else, it all comes down to a balanced meal. According to Sheena Patel Swanner, Director of Nutrition Programs at AICR: "one of the most important things to help reduce cancer risk includes following a healthy eating pattern. Eating a diet rich in whole grains, vegetables, fruit, and beans; limiting consumption of "fast foods" and other processed foods high in fat, starches or sugars, and limiting consumption of sugar-sweetened drinks are a few of AICR's recommendations."
So, eating for cancer prevention is no different than other healthy eating patterns. To put it simply, fill your kids' plates with various whole foods and always include an array of colors. Check out these additional simple lifestyle guidelines to help protect the household from disease and to prevent colon cancer from occurring.
Hear are 8 key things to incorporate into your weekly food choices and behaviors to help prevent colon cancer, with more insight for each of them below:
Fill your plate with fibrous foods.
Plan meals and snacks with balance in mind.
Keep it kid-friendly.
Choose fish or lean poultry over red meat, and avoid processed meats.
For adults, avoid, limit, or cut back on alcoholic drinks.
Don't smoke.
1. Fill your plate with fibrous foods.
Studies have shown that a high-fiber diet can decrease the risk of colorectal cancer (this includes helping to prevent colon cancer). Think whole grains, legumes, seeds, fruits, and vegetables.
Experiment with lentils! These mighty legumes pack a fiber-filled punch. For instance, one can of Amy's Organic Lentil Vegetable soup has 16 grams of fiber. For most kids, this will be more than half of their daily needs. Click to learn more about age-specific fiber recommendations and where to find fiber.
2. Plan meals and snacks with balance in mind.
Be sure to include plenty of fruits, vegetables, whole grains, nuts, and beans. For extra help, use the MyPlate guidelines for how to build a healthy plate. Check out Swanner's helpful mealtime tips to help protect your little ones against cancer.

"Breakfast: skip the fruit juice and instead eat real fruit. Add colorful berries like raspberries or blueberries to any cereal. Berries are high in fiber – 1 cup of raspberries has 8g of dietary fiber.
Lunch: spread mashed up avocado onto a sandwich. Avocados are creamy and will not only add a nice texture but also boost fiber – 1 cup of avocado has 10g of dietary fiber.
Dinner: replace some of the meat or chicken in a meal with green peas, black beans, or lentils – all great sources of fiber – 1 cup of lentils has 16g of dietary fiber.
Snacks: Dip veggie sticks and whole-grain crackers in hummus – a crunchy satisfying high fiber snack."
3. Keep it kid-friendly.
When it comes to eating, kids tend to be creatures of habit, sometimes making it challenging to incorporate new foods. Transform high-fiber foods into familiar favorites, such as this black bean and corn salsa or quinoa-black bean burgers. Each comes packed with protein, fiber, and an irresistible flavor! Not to mention, they are abundant in "fight-o-chemicals"—powerful plant compounds that help fight off disease and cancer while adding a burst of colorful goodness to every bite.
4. Choose fish or lean poultry over red meat, and avoid processed meats.
Red meat contains more saturated fat, while processed meats often contain added preservatives to keep them fresh for longer. If you can't find fresh deli meat, opt for meat sandwich substitutes. Give wraps with beans and roasted veggies a try or spring rolls with tofu added in for a protein source.
5. For adults, avoid, limit, or cut back on alcoholic drinks.
Skip the "rosé all day" vibes and aim for a maximum of one drink per day for women and two for men. Start with bubbly water, infused water, or unsweetened iced tea before transitioning towards wine or beer.
6. Don't smoke.
Plain and simple. While this may be easier said than done for some people, putting an end to this habit can decrease your risk of multiple types of cancer, including colon cancer. It will also help reduce your child's exposure to disease-causing secondhand smoke.
Healthy Activity to Prevent Colon Cancer
Get the ultimate pay-off by doing what you can to help yourself and the family stay at a healthy weight. There is strong evidence that carrying too much body fat raises the risk of colorectal cancer. Remember, some children go through a natural growth phase where they may gain more fat before growing tall.
But, according to Swanner, "staying at a healthy weight throughout life is the single most important way to protect against cancer after not smoking."
Use these weight tips to approach your child's size in a healthy manner. Also, check out these ideas to help maintain a healthy weight.
Daily activity guidelines.
Being active every day in any way, regardless of your weight, can decrease your risk of colorectal cancer. It even applies to overweight young children and teens.
Remember, kids need to get 60 minutes or more of physical activity and play every day! So, get moving together as a family!
For adults, aim for a minimum of 30 minutes of moderate physical activity daily. Whether it be daily walks with your dog, playing tag, or chasing after your young child on a big wheel or bike.
Keep off the unwanted pounds, or healthfully help shed a few extra by engaging in an hour of exercise each day.
Cancer Preventative Actions to You Can Start Today
As part of National Cancer Prevention Month, AICR has started the Healthy10 Challenge to enable healthy habits that promote cancer risk reduction. This 10-week program focuses on improving lifestyle choices, from food choices to daily exercise.
The Healthy10 Challenge comes with weekly recipes, exercise tips, and general nutrition guides to best facilitate your household's positive lifestyle changes. Don't wait; accept the challenge and pledge to "Take a Ten" with AICR now! Interested to learn more? Explore more about the program!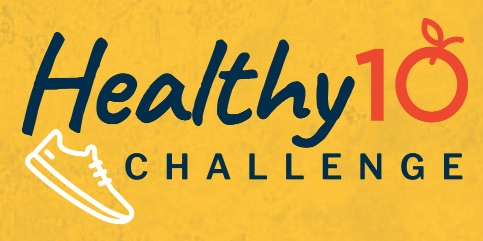 While going to the doctor may not be you nor your child's idea of fun, it's a key prevention measure. After all, early detection is critical. So, speak with your physician about routine colon cancer screenings and other options that can reduce your household's risk of disease. Be your family's health activist, and focus on how to prevent colon cancer today!
Find more great resources for cancer prevention in our toolkits and at https://www.aicr.org/resources/for-families-children/.