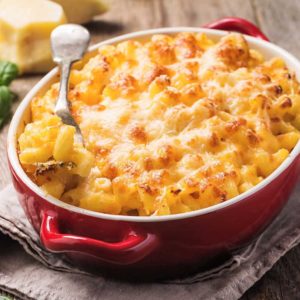 Here are several of our favorite quick and easy main holiday party dishes that are packed with nutrition and are definite family pleasers!
Did you offer to bring a main dish or side to bring to an upcoming small holiday family gathering or make one for your family at home? Are you still unsure of what to prepare? Do you want to make something healthy, delicious, AND easy to make?
We are here to help make preparing for the holidays simpler and more enjoyable! Many of these meals can be started the day before to save you time when everything picks up speed. You can add to your idea list with our Super Quick and Healthy Holiday Appetizers – no lack of options here!
This post contains an affiliate link. As an Amazon Associate, we earn from qualifying purchases. The link is noted with an asterisk (*) or Amazon image.
Healthy Mac and Cheese Casserole
Surprise your family with this cheesy casserole. They'll be surprised to learn that it's healthy, too! To save time, make the mac and cheese the night before or try this sweet potato macaroni and cheese made with chickpea pasta. Then, the day of, scoop your pre-made mac and cheese into a casserole dish, toss with breadcrumbs and cheese and bake until everything is perfectly melted. Who can resist a crunchy and cheesy dish?
Single-Serve Holiday Veggie Quiche
Make mini veggie quiches and skip the crust for a healthier twist. Use lined muffin tins and fill them up with veggies, scrambled eggs, and cheese. We love using reusable silicone baking cups* for easy cleaning! You can also choose to use mini-muffin tins to turn this dish into an appetizer. When the quiches are in the oven, make the Super Crew's Mystery Holiday Present with the kids!
Vegetable Chicken Casserole
This easy veggie chicken casserole is loaded with whole grains, lean protein, and tons of veggies, and is mouthwateringly delicious. It can be prepared the night before and reheated the day of. You can even have the kids choose a couple of their favorite veggies to go into the dish to make them more likely to eat it!
Easy Marinated Salmon
This dish is so delicious that no one will be able to tell how simple it is to prepare! Buy marinated salmon in vacuum-sealed individual packages. Simply place the bags in the fridge to defrost the morning of your holiday event, then cook them up that night! Toss them in the oven to bake them, or broil them to save even more time. Every minute counts when it comes to staying rested and healthy during the holidays!
If you'd rather not spend the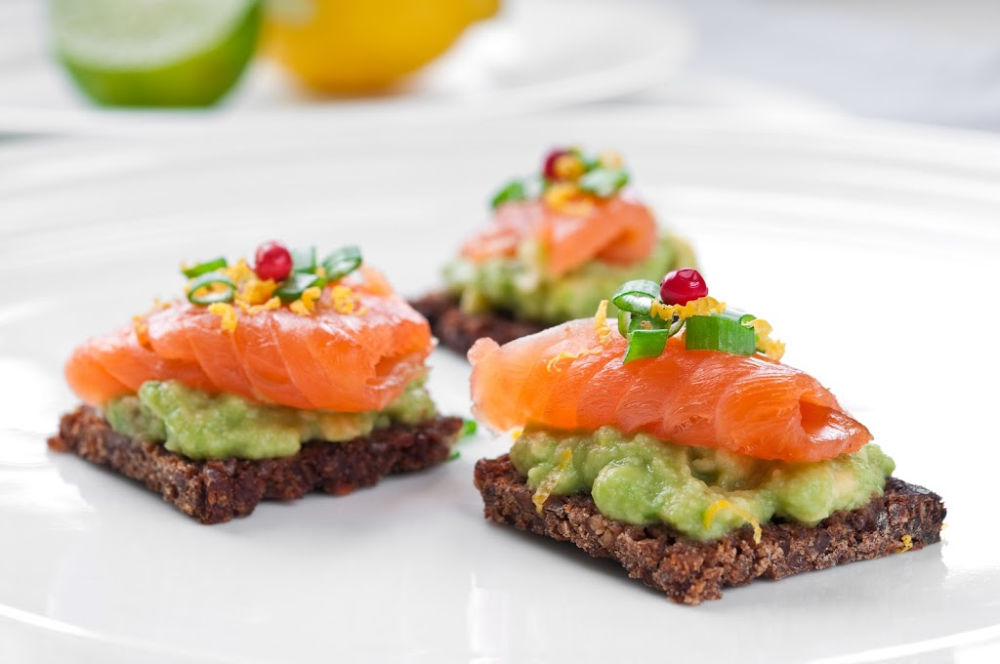 time defrosting and cooking the salmon, choose smoked salmon instead and make salmon and avocado bites on whole-grain crackers or bread with chives and pepper. They're quick, easy, and delicious!
Mini Ground Turkey Loaves
To save time, buy frozen mixed veggies such as carrots and onions, and cook them up in the microwave. Drain off the extra liquid, add dry oats and garlic, then mince in a food processor. Add your ground turkey and seasonings of choice, then distribute into muffin tins and bake them up. Make sure the internal temperature reaches at least 165° F for proper food safety!
Sweet Potato Rounds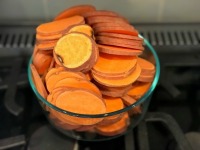 This is a fun alternative to the classic roasted sweet potato dish. Instead of cooking up your sweet potatoes whole, slice them into thin rounds, as explained in this sweet potato nacho recipe. Then, coat with a little brown sugar or honey and a healthy butter substitution such as olive oil or margarine and bake until fully cooked and slightly crisped.
Mashed Sweet Potatoes
For a twist to your traditional mashed potatoes, add some spice and color to the table with this mashed sweet potato option for a healthy holiday dish. This vibrant orange dish is spiced with cinnamon, curry, and coriander for a complex flavor, and is loaded with phytochemicals and carotenoids to bring a nutrient boost to your meal.
Overnight Chili
A warm bowl of hearty chili is the perfect addition to any winter feast. Plus, it can be thrown together the night before and slow-cooked overnight! The night before your holiday festivities, toss your chili ingredients into a slow cooker and let it do its magic while you catch up on sleep. In the morning, your chili will be ready to go!
Tip: Looking to add more plant-based protein and less red meat? Swap tofu for some or all of the ground beef in this recipe for a plant-protein boost!

Ginger Honey Tofu
Speaking of tofu, it also makes for a great plant-based dish. Add it to your table with this ginger honey tofu recipe, as a delicious and savory addition to any feast! You can even use it as a side dish or mix it into a green salad. There will be no lack of flavor here! This recipe is from my popular plant-based cookbook which also includes ways to replace a portion of meat with plant-based proteins.
These ideas will hopefully give you easier holiday solutions and will allow you to enjoy your time in the kitchen. Print out this list and check off one or two ideas you want to try this year. Then star a couple of others for next year so you'll already be prepared for the next holiday season!