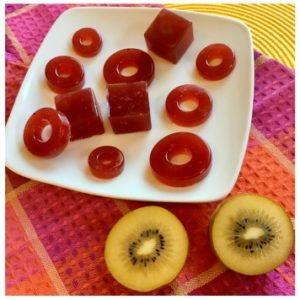 Try these new ways to decorate your typical meals or holiday treats that still taste great while packing in good nutrition for your family!
'Tis the season for celebration! While we all adore and look forward to the holidays, we can also probably agree on the fact that being festive isn't cheap! After all, we've got potlucks to cook for, presents to shop for, and parties to attend! Instead of an excess of high-priced video games, fancy toys, and expensive electronics, why not add a little more to your kitchen memories this year? Ask your kids to lend you a hand in mixing, stirring, mashing, and whirling!
What Can You Make With Kiwifruit and Raspberries?
Imagine making the yummiest homemade candy from real whole foods like SunGold Kiwifruit that comes together in a snap! SunGold Kiwifruit is naturally super sweet, so it adds a big-time flavor boost to these chewy confections. Plus, these golden gems go great on top of your morning oats, add a tangy kick to your smoothies, or you can enjoy them solo as a dessert or snack.
This recipe for Berry Yummy Kiwi Gummies infuses these fresh, juicy kiwifruits with plump, delicious raspberries to make a sweet treat your kiddos will be begging to eat when desserts come out at the holidays. Don't worry, we won't tell if Mom and Dad sneak some too!
The best part? The fruit that is leftover from making the gummies can be repurposed into a delectable Berry Kiwi Compote.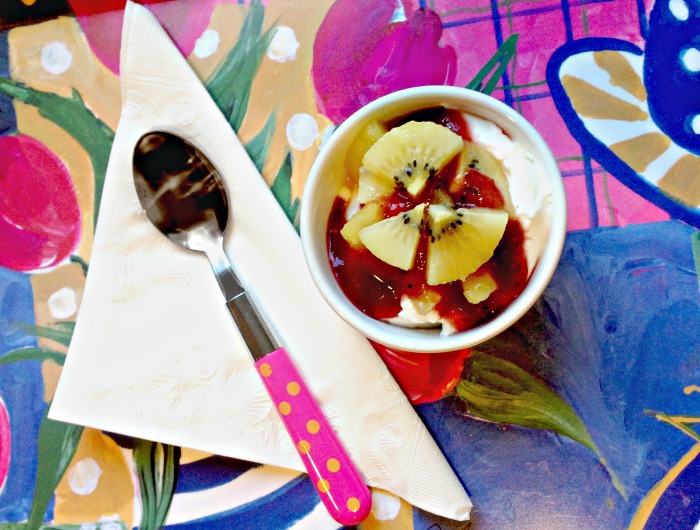 Swirl this sweet sauce into some plain Greek yogurt for a protein-rich snack, spoon a dollop over your pumpkin pie or cookies as a decadent topping, or drizzle it over whole grain pancakes/waffles or your morning oatmeal for an AM delight. Whichever way you decide to enjoy it, we guarantee there will be no leftovers.
Warning: sticky fingers ahead!
Berry Yummy Kiwi Gummies
Makes: 4 servings
Ingredients:
6 SunGold kiwifruit, peeled and sliced
2 cups frozen raspberries
10 tablespoons sugar, divided
2 oz unsweetened dry powder gelatin
Directions:
Combine kiwis, raspberries, and 6 tablespoons of the sugar in a bowl and let sit for 25-30 minutes, until berries are thawed.
Mash up the fruit with a spoon and using a fine-mesh strainer or cheesecloth, drain the juice into a bowl. Set mashed fruit aside to use in another dish.
In a small saucepan over medium heat, combine the strained juice with the remaining 4 tablespoons of sugar and slowly add in the gelatin, whisking frequently until dissolved. Pour the mixture into a square baking dish or ice cube trays and chill in the refrigerator for 1-2 hours, until firm.
Slice into small cubes or pop the gummies out of the ice cube trays and serve! Gummies can be stored in the refrigerator in an airtight container for 2 weeks.
A couple of these gummies goes a long way. Offer the right portion and serve with some fresh fruit.
More Ways to Get Creative With the Gummies
If you're looking for another way to bond with your little ones this holiday season, get a little crafty by making a yummy Holiday Kiwi Wreath! Here's how:
Peel and slice 4 kiwis into rounds and arrange them in a circular wreath pattern on a plate
Cut one strawberry in half to act as a bow and place in the bottom corner of the wreath
Eat and enjoy!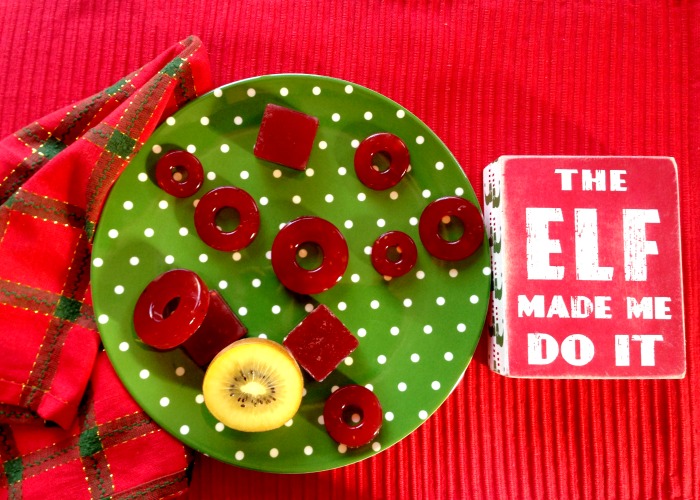 Zespri SunGold kiwfruit sponsored this post. You can see our disclosure at our services: https://www.superkidsnutrition.com/services/