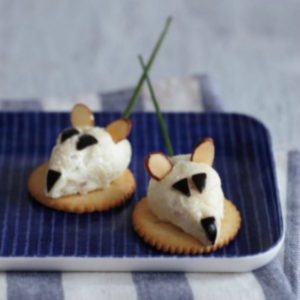 Looking for a quick, fun, and delicious food activity to do with the kids?
Erica Julson, MS, RDN, shares this cheese and cracker recipe as a special feature from her book, Great Balls of Cheese. Not only are her mouse bites a great way to get your kids in the kitchen, but they make for a fun activity that can be enjoyed with friends, family, and at parties! Read more about the book here to see what else the book has to offer, including the additional cute and simple recipes to try with your kids.
Mouse Bites
Makes about 16 mice
Mice are associated with Swiss cheese for reasons I don't understand, but I do understand that the combo of Swiss cheese and Dijon mustard is a winning combination best served when shaped like tiny mice with big sliced almond ears and outlandishly long tails made from chives.
Ingredients:
8 ounces cream cheese, softened

2 cups shredded Swiss cheese

1 tablespoon chopped shallots

1 ½ teaspoons Dijon mustard

¼ teaspoon Worcestershire sauce

¼ teaspoon coarse salt

Crackers, for serving

Black olive pieces, sliced almonds, and fresh chives, for decorating
Directions:
Using a stand mixer or a bowl and a spatula, mix together the cream cheese, Swiss, shallots, mustard, Worcestershire sauce, and salt until combined. Using a teaspoon, scoop out about sixteen 1-ounce balls of the cheese mixture and form into mouse shapes – teardrop-shaped balls of cheese about the size of your thumb. Place the mouse-shaped cheese balls on a baking sheet, cover with plastic wrap, and refrigerate for at least 2 hours or overnight.
Before serving, set each "mouse" on a cracker and decorate with a tiny piece of olive each for the eyes and nose, 2 sliced almonds for the ears, and a chive for the tail.