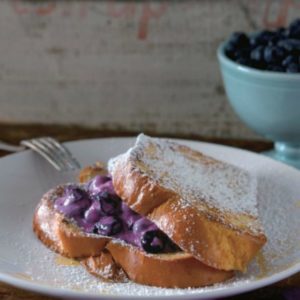 Looking for a new recipe to switch things up at breakfast without sacrificing flavor or nutrition – try this french toast?
Try this delicious recipe from Toby Amidor's book, Greek Yogurt Kitchen! It is only one of many examples of how to use Greek yogurt in everyday dishes that you make! Read more about the book here in our interview with the author herself!
SERVES 4
Ingredients:
Cooking spray
1 cup nonfat milk
4 large eggs
1 tablespoon vanilla extract
½ teaspoon ground cinnamon
½ loaf challah bread, preferably whole wheat
1 ¼ cups fresh or frozen blueberries (thawed if frozen)
¼ cup nonfat lemon Greek yogurt
1 tablespoon confectioners' sugar
Directions:
Coat a large skillet with cooking spray. Heat it on the stove over medium-low heat.
In a medium bowl, whisk together the milk, eggs, vanilla extract, and cinnamon. Cut the challah into eight ½-inch-thick slices. Submerge half the slices in the egg mixture, being sure to moisten both sides. Then place soaked slices on the heated skillet and cook until golden brown, about 7 minutes. Flip and cook on the other side until browned, about 5 minutes. Remove from the skillet and keep warm. Spray skillet with cooking spray and repeat with the remaining challah slices.
To make the filling, mash the blueberries and lemon yogurt together in a small bowl.
To assemble each stuffed French toast, place 1 piece of French toast on a plate. Spread ¼ cup of the lemon-blueberry mixture over the bread. Top with another piece of French toast, and slice in half. Just before serving, sprinkle the confectioners' sugar evenly over the stuffed French toast.
Nutrition Information (per serving):
SERVING SIZE: 1 stuffed French toast
Calories: 379; Total Fat: 9 grams; Saturated Fat: 3 grams; Protein: 19 grams; Total Carbohydrates: 53 grams; Sugars: 19 grams; Fiber: 6 grams; Cholesterol: 232 milligrams; Sodium: 438 milligrams