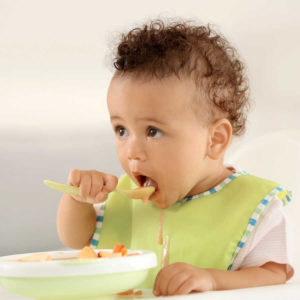 Here are savory and sweet meal ideas that include baby-safe spices and herbs to help boost flavor and nutrients in your infant's diet.
Are spices and herbs safe for baby? Yes! But wait until 6 months of age, when baby's first foods are started!
Did you know that many cultures add a spice of life to their baby's diet shortly after transitioning to pureed foods? Ginger. Basil. Turmeric. Cinnamon. Is your mouth watering yet? Including herbs and spices into your infant's diet is a great way to give a boost of flavor and nutrients. But there are a few ground rules. Avoid excess. Monitor for allergies. And, make sure they are finely ground.
Health Benefits of Spices
Spice is everything nice. But seriously… can you imagine life without it? In addition to boosting taste, antioxidants, and vitamins, each one contains unique health benefits. Specifically, many of the phytonutrients in herbs and spices can help with brain function, inflammation, and immunity. Phytochemicals in herbs and spices also aid with neural communication. Neurons are what allows the brain to process, learn, and store memories. Finally, introducing spices at a young age can expose your child to a variety of flavors, and allow for a more adventurous palette later in life. Keep reading for tasty and creative ways to up the spice in your baby's foods!
10 Savory Meal Ideas with Baby-Safe Spices
Try these meal ideas with seasonings to add tasty nutrition to every bite of baby's first foods.
Fall-Inspired Sweet Potatoes: Mashed sweet potato with a small dash of ground ginger and clove
Citrus-Twist Avocado: Mashed avocado with a small dash of ground cumin and splash of lime juice
Mediterranean-Style Salmon: Puréed baked wild salmon (make sure to carefully look for and remove any bones!) with olive oil, lemon juice, and finely ground thyme.
Chicken and Veggies: Roasted chicken puréed with vegetables and oregano
Perfect Pasta: Whole wheat or quinoa pasta, carrots and chicken broth puréed with a little thyme and lemon
Protein Pumpkin Puree: Roasted pumpkin purée with mashed hard-boiled egg and ground sage
White Fish and Butternut: Roasted butternut squash and white fish purée with minced parsley or dill
Bean and Chive Puree: Pureed green beans and a little bit of minced chives
Cumin and Chickpeas: Pureed chickpeas and carrots with cumin
Spiced lentils: Pureed red lentils with turmeric and ginger
10 Sweet Baby Meal Ideas With Safe Spices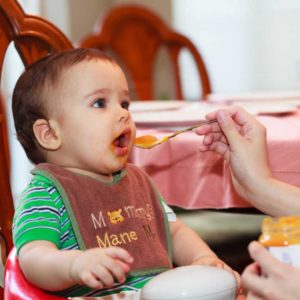 Cinna-Pears: Steamed and puréed pears with cinnamon
Berry Oatmeal: Oatmeal with puréed frozen berries and a sprinkle of ground cardamom
Banana-Mash: Banana mashed with a splash of orange juice and a small dash of cinnamon
Aromatic Applesauce: Applesauce, vanilla extract, and a dash of cinnamon
Spiced apples:

Steamed apples with clove puree
Mango and mint: Mint and mango puree
Roasted banana: Roasted banana with blended buckwheat and a dash nutmeg
Peaches and vanilla: Pureed peaches with vanilla and ginger
Cantaloupe and avocado: Cantaloupe and avocado puree with mint
Yogurt with applesauce: Yogurt with applesauce and cinnamon
Important Tips for Introducing Herbs and Spices to Baby
Feeling inspired? Grab the food processor and get ready to prepare a bunch of new sweet and savory baby meals. But, before you go all "spice-bae" on your infant's food, there are a few things to keep in mind.
If your baby is tasting a new food for the first time, omit the spices until you know a food is tolerated. Once it's obvious they tolerate the food, add in a singular spice or herb and evaluate if it's tolerated.
Start small- keep in mind that a small amount of spice can pack a big punch! You can always add more to the next batch.
Don't limit the spices and herbs according to your own taste preferences. Your child may love and herb or spice you dislike.
For fresh herbs wash carefully and grind or rinse. You can use a mortar and pestle or kitchen scissors then blend into baby food.
Label your dried herbs once open, they have their best antioxidant function before 6 months, but can still be used up to a year.
Be cautious with hot spices, such as chili peppers and black pepper, which can cause discomfort in babies. Consider saving these for later!
If you're making your food and baby's food together, leave salt on the kitchen table! This will help your baby get used to the taste of low-sodium foods.
If your baby doesn't like a food the first time it's offered, don't give up! It can take multiple introductions for babies to develop a liking for a new food. When offering foods, make sure to avoid pressuring your baby to eat foods they don't like! Strive to keep mealtimes a pleasant experience.

Even before your baby is ready for solids, consider including these baby-safe spices in your diet! If you're breastfeeding, herbs and spices can give breastmilk distinct flavors and may help your little one like these flavors when they start eating solids.
For more on infant nutrition see our comprehensive guide on baby's first foods, food tips on making homemade baby food, and browse our site for helpful tips to grow healthy kids!