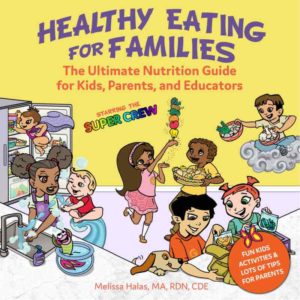 The Ultimate Nutrition Guide for Kids, Parents, and Educators, Starring the Super Crew
FOR IMMEDIATE RELEASE
Learn how to fuel your family and inspire your kids to try new foods! Get the ins and outs of childhood nutrition with this kids nutrition book!
Pasadena, CA, July 31, 2020 – Registered Dietitian Melissa Halas, MA, RDN, CDE has a twenty-year track record of making good nutrition come to life with her notable Super Crew characters. Her new book is a perfect and simple guide to feeding your kids right.
Healthy Eating for Families, The Ultimate Nutrition Guide for Kids, Parents, and Educators Starring the Super Crew is a book that everyone will enjoy! Kids. Parents. Educators. Health Professionals. Caregivers. The possibilities are endless.
The book is currently available on Amazon.
The relatable characters help kids empower healthy meal choices, diversify their palates, and become more connected to plant-based foods. Inspire children to fuel their growth with the Super Crew characters, who get their mighty powers from healthy colorful foods!
Included in the book:
Tips for getting kids to try and enjoy new foods
Fun and tasty food ideas, facts, and activities
Goal setting for healthy eating
Mix and match meal ideas
Plant-based food health benefits
Family-style meal reminders
Practical and evidence-based tips and tools for adults on how to introduce new and healthy foods to kids
Contact Information: