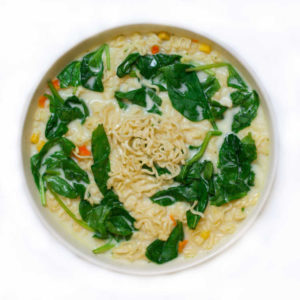 Sometimes you are busy at work or errands and you think making a home cooked meal for your active high schooler just isn't going to happen. Here are simple solutions for those tired days!
While they are independent enough to be in the kitchen, they lack the skills to make a complex, let alone balanced, meal. As a result, they resort to frozen food, fast food or instant noodles, with many brands high in sodium and artificial coloring or flavorings. You know it's not the best for their health or growing minds, but struggle with a realistic and timely solution. Here are some healthy, easy meal ideas that will inspire your teen to learn basic kitchen survival skills. Plus, this meal plan includes some Chinese-inspired dishes, for an easy (and healthy) alternative next time your teen wants to order take-out. Here are three meals and a snack to help them get started!
Breakfast: Egg salad sandwich + low-fat milk
This sandwich tastes like it's right out of a fancy bakery. Enjoy it for breakfast or lunch. The B1 and K vitamin-rich cucumbers also contain a high percentage of water, which can help with stress and hydrate your body. Thanks to the fiber in whole-wheat bread, it helps promote "regularity," so bathroom breaks are kept to a minimum in between classes. This sandwich will provide satiating fuel so teens can face the day!
Ingredients:
1 hard boiled egg*
¼ cup corn (frozen)
¼ cup cucumber, diced
¼ cup lean ham, diced
1 tablespoon reduced-fat Mayonnaise

     

2 slice Whole-wheat bread
Directions:
Boil eggs in water for 10 minutes

.

Remove from boiling water and cool in an ice bath.
*TIP: Have the high-schooler make several hard-boiled eggs one night while studying. Store them in the refrigerator to have on hand for grab-and-go meals or snacks all week.
2.  Heat frozen corn in a microwavable bowl for about 30 seconds. (Bowl will indicate if it's microwave safe on the bottom).
TIP: Corn is a great addition to salad bowls, quesadillas or omelets.
3. Wash and chop about ¼ of a cucumber. Wrap the remaining ¾ cucumber in a tightly sealed plastic wrap.
TIP: Cucumber makes a great a great snack with salad dressing or hummus.
4. In a small mixing bowl, crush or dice the egg and mix with the mayonnaise, then add the corn and cucumber to the bowl and mix.
5. Using kitchen scissors to save time, cut the lean ham into the remaining ingredients.
6. Spread the mixture on the bread, and enjoy with a glass of milk!
Lunch: Super Instant Noodles
After a long day at school or work, your child is starving, but the chef of the house will not be home for another two hours. Instant noodles might be tempting, as they only require boiling water to prepare. Unfortunately, most are high in sodium, pack in artificial flavorings and are low on vegetables – which contain important nutrients that help keep you feeling and looking your best. Upgrade that noodle bowl by choosing an instant noodle brand by comparing brands and choosing one lower in sodium and free of artificial ingredients then, add in a few veggie ingredients to make it a super cup of noodles. It is also a great way to build up your veggie intake for the day.
Ingredients:
Instant Noodles. TIP: If you are having trouble finding a low sodium brand – use the regular version and cook without the seasoning pack or cut it by half (where all the sodium is hiding) and season yourself.
2 cups spinach, bok choy, or any dark green, leafy vegetable
5 frozen shrimp
1 scallion (green onion), sliced
1 medium carrot, peeled and chopped into pieces
1 egg, optional
Low sodium chicken stock, optional
TIP: Here is another great place to toss in some frozen corn kernels.
Directions:
In a small saucepan, add water and frozen shrimp and heat to boil.
Use kitchen scissors or hands to tear lettuce into small pieces. With tougher greens like kale or bok choy, use a knife to chop.
Add noodles, greens, carrot and seasoning pack* into the boiling water. Cook the noodles until soft, about 2-4 minutes.
Crack an egg into the saucepan. Cook another 2-4 minutes stirring to mix egg. Top with sliced scallion and enjoy!
*The packaged seasoning mix is high in sodium. Using low-sodium chicken stock instead of water will enhance the flavor and allow you to use less or none of the seasoning pack.
Snack: Top low-fat Greek Yogurt with fresh berries and nuts. Greek yogurt is a great source of calcium and probiotics. It is also lower in lactose and has twice the protein content of regular yogurt. The thicker, creamier texture will satisfy your taste buds!
Dinner: Garlic baked chicken wings with steamed egg, and Chinese marinated cucumbers
You don't need to order Chinese take-out when the craving hits! With just a few steps, you can make your own combo meal at the same time you would be waiting for the delivery person. Most people can't resist fried chicken, but it comes with a lot of unhealthy fat and creates quite a mess in the kitchen! Baked chicken wings are a satisfying, quick and healthy alternative.
Garlic Baked Chicken Wings:
Ingredients:
½ tsp. garlic powder
Dash of salt and pepper
3 Chicken wings
Directions:
Pre-heat the oven to 375°F.
Season the chicken wings with garlic powder, salt, and pepper, and let sit for ~10-15 min.
Bake the chicken wings in the oven for 15 min.
Microwave-Steamed egg:
Ingredients:
2 eggs, whisked
3/4 cup water
dash of salt
1 tsp. sesame oil
Directions:
Whisk eggs, water, and salt in a microwavable bowl.
Microwave on medium power for 6-7 min.
Top with sesame oil

.
Cucumber in Chinese dressing:
Ingredients:
1 garlic clove, minced
1 tbsp. vinegar
1 medium cucumber
Directions:
Wash and cut the cucumber into small sticks.
Mix cucumber sticks, minced garlic, and vinegar in a bowl. Mix well and serve.
Even the most ravenous of teenagers can make these simple Chinese-inspired meals in no time flat. You don't have to eat these meals all on the same day, as eggs are for both breakfast and dinner, instead use them as examples for meal variety. Chinese cuisine does not have to be complicated or come delivered in white square containers! Cooking these simple meals will not only satisfy hungry teens, but it will also teach them kitchen skills they will use the rest of their lives. Get cooking!