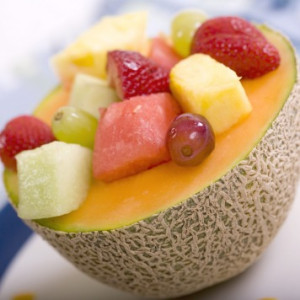 Learn common foods that contain sodium, and easy ways to make sure your children aren't getting too much!
As a parent concerned about your child's nutrition, you may already focus on boosting your family's consumption of a wide variety of fruits, vegetables, whole grains, nuts, and seeds. But do you pay attention to your family's sodium intake? It's shocking just how much sodium America's kids are consuming! Consuming too much sodium can increase your risk for high blood pressure, heart attack, or stroke, so it is important to keep an eye on how much you are consuming. Here are some quick tips to reduce the amount of sodium in your food.
Swap the salt shaker.
Sodium can hide in sneaky places, or can be right in front of your kids in the salt shaker! Place salt-free spice blends on the table, such as Mrs. Dash, Trader Joe's 21 Salute, or Bragg's 24 Herbs and Spice Seasoning, instead of salt. You can enjoy a pop of flavor without adding extra salt. Flavor up your family's snacks with herbs and spices!
Check nutrition labels carefully.
Look for low sodium or reduced sodium sauces, soups, soy sauce, broths, tomato sauce, bread, peanut butter, and other packaged products. You'll be surprised how much sodium is in one brand of tomato sauce versus another.
Rinse your canned beans.
This simple act can decrease the sodium content by as much as 40%.
Take a look at your pizza.
Next time you order a pizza, ask for half the cheese, double the sauce, the thinnest crust, and extra veggies. The general rule of thumb is to reduce the amount of bread, cheese, and meat in your pizza to lower your sodium intake. Another option is to make pizza for your children at home using reduced sodium marinara sauce, low sodium cheeses like mozzarella and goat cheese, and fresh, minimally processed meats with little to no added salt. Use garlic, spice blends, and fresh herbs (e.g., basil, oregano) for extra flavor. At home try making cauliflower pizza instead!
Swap your tomato sauce.
When making homemade pasta dishes, purchase low sodium tomato sauces (which are also a great source of potassium) and use extra basil, pepper, and garlic for flavor.
Find low-sodium snacks.
Provide low sodium snacks in place of chips, animal jerky, or pretzels. When salty snacks are offered, make sure to opt for the low sodium versions:
Cucumber cups filled with avocado yogurt and garnished with fresh cilantro.
Sliced apples or celery sticks smeared with unsalted peanut butter and sprinkled with raisins and cinnamon (ants on a log).
A bowl of chopped fruit
Low sodium whole wheat crackers with homemade guacamole or yogurt spread
Veggie sticks with hummus (choose the lowest sodium option)
Slice raw chicken into little nugget shapes. Dip the chicken into an egg wash. Then, mix the chicken with whole wheat bread crumbs inside a Ziploc bag and have your child shake it. Once the chicken pieces are fully covered in breadcrumbs, bake them in the oven until golden brown. Freeze leftovers and reheat for a quick meal or snack.
Make your own soup.
Instead of store-bought canned soups (which can contain up to 2,000mg of sodium or more), save your money and heart by making your own! Soups are also a great way to increase your children's veggie intake. Try this delicious cauliflower soup for starters.
Mexican food swaps.
When your family eats Mexican food, use corn tortillas instead of flour, and top with fresh salsa and guacamole instead of beans and rice. Skip the salt laden chips, cheese-filled dishes, and request sauces to be placed on the side. When possible, make homemade Mexican food. This way you have more control over the sodium content and your children do not need to give up their beloved burritos!
Check your deli meat.
When selecting deli meats for sandwiches, always look for low sodium options, such as Boar's Head no salt added oven roasted turkey breast or Applegate brand. You may be surprised by how much sodium two slices of deli meat can pack in. An alternative option is to use grilled chicken breast or other types of protein in place of lunchmeat when possible. Some examples include homemade egg, chicken, or tuna salad sandwiches with fresh veggies. Remember to serve on low sodium bread as well!
Ways to stay on track when dining out.
Most importantly, when dining out, check out healthydiningfinder.com and look at the menu options for the adults and for the kids. Check out FoodLeap, a fun and free gaming app that teaches kids about healthy colorful foods! Play before heading out to eat and try some of the foods featured in the game.  In addition to watching your sodium intake, try to increase the amount of potassium you eat each day. Research shows that foods high in potassium (see below) can actually lower blood pressure, which makes it an important mineral in your arsenal against cardiovascular disease. It is recommended Americans consume 4,700 mg per day. If your child really wants beef jerky in his/her lunch box (which can be high in sodium), add a high potassium smoothie or potassium-rich foods along with it. Avocado and kiwi are high-potassium foods that make great smoothie additions. Also encourage him/her to keep a water bottle in class to stay hydrated.
The Top 9 Potassium-rich Fruits.
Dried Apricots (5 mg per ¼ cup or 1 fresh apricot is 91 mg)
Raw bananas (422 mg per 1 medium banana)
Raw California avocados (354 mg per ½ cup, sliced)
Raisins (322 mg per 1 small box, 1.5 oz or 3 tbsp)
Honeydew melon (285 mg per 1 wedge; 1 wedge from a melon that was cut into 8 wedges)
Raw kiwifruit, green (215 mg per 1 whole kiwi)
Cantaloupe (147 mg per 1 wedge of small cantaloupe; 1 wedge from a melon that was sliced into 8 wedges)
Dehydrated figs (25 mg per ¼ cup or 116 mg per 1 whole fresh fig)
Prunes (70 mg per prune; 5 mg per ¼ cup)
The Top 9 Potassium-rich Vegetables.
Roasted soybeans with no salt added (1,264 mg per ½ cup)
White beans (502 mg per ½ cup cooked)
Swiss Chard (480 mg per ½ cup cooked)
Spinach (5 mg per ½ cup cooked)
Bamboo shoots (402 mg Potassium per ½ cup)
Kidney beans (358 mg per ½ cup cooked)
Baked red potatoes (341 mg per ½ cup)
Sweet potatoes (337 mg per ½ cup)
Baked/cooked winter acorn squash (263 mg per ½ cup)
Source: https://ndb.nal.usda.gov/