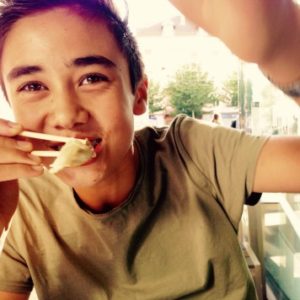 Having trouble keeping your 16-year-old 
from eating everything in the house? The amount of food a teenage boy can put away is legendary!
Besides sports, work, and other after-school activities and it's a wonder they get anything else done but eat. Depending on activity level, boys between 14 and 18 can require 2200-3200 calories daily (1), and will often indiscriminately hoover-up whatever is put in front of them. This voracious eating makes for a great opportunity to help your child develop good habits that will prepare him for a lifetime of healthy eating.
Remember, not all calories are equal!
This is an important thing to remember! Just because your teen is engulfing everything in sight, if those are not healthy foods, he may not be adequately nourished. Calories from whole grains, lean protein, and dairy, fresh fruits, and vegetables, nuts, seeds and herbs, will contribute the nutrients he needs to support what can sometimes be astounding growth spurts. A 14-year-old freshman can start high school at 5'2" and finish his senior year a full foot taller! Since teens are adding muscle mass, bone structure, and blood volume during this time, what they eat directly impacts the quality of these body components. Iron and calcium are particularly important during growth, and these minerals are not readily available in processed junk food. So how are we to get nutritious food into adolescents who are also exerting their own will and are often not so receptive to parents' good advice? See our pointers below:
Provide Healthy Snacks.
Given that boys at this stage of development are usually ravenously hungry, make sure options are available for meals and snacks that support good health. Get rid of sugary cereals, cookies, donuts, toaster tarts, salty chips and other processed foods that might be quick go-to snacks in your pantry. Instead, provide fruit and vegetables, already washed and cut up, front and center in the fridge for when he's looking for something to eat. If he's hungry, he will eat them!
Don't Skip Breakfast.
Encourage breakfast that includes protein. It will help to keep your teen full until lunchtime and allow them to better focus during school. Some of our favorites:
Give a Gentle Lunch Reminder.
During the week, your teenager likely eats at the school cafeteria or goes out to neighboring fast food restaurants. Remind him that salads are usually available. Adding a tomato and greens on a burger makes a good food better. Occasionally switching it up to a turkey or chicken burger could also be encouraged. Does he love pasta? Encourage him to add some veggies and grilled chicken to the penne. And pizza can be made more nutritious with spinach, peppers and other veggies. On weekends, lunch can be dinner leftovers (if you actually have some!) or a salad and sandwich.
Since it is often challenging to keep an eye on foods teens consume outside the home, it is important to make sure that in the house, delicious and nutritious options are what's readily available. Keeping it cool and not overly "sermonizing" about junk food he may be having while out of the home is wise – this is a teenager after all! Modeling healthy eating behaviors helps too, more than you might expect. Your child naturally internalizes the habits you display, and this information can wire him to make good choices when he grows up and is on his own. By creating a positive food environment at home, guiding him towards nutritious choices, and modeling good eating yourself, your teenager will grow into a healthy eater for life.