Healthy Fundraisers – Which Foods Will Your Child Choose?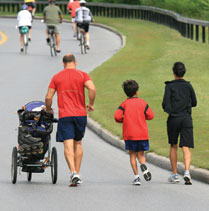 Foods that compete with your kid's health are called
competitive foods. Competitive foods might include the coke your child purchases from the vending machine even after seeing a cartoon of low-fat milk but chooses in the school cafeteria. Help replace competitive foods at school and at home by choosing healthier options from the get-go. Below are some options to help get you started.
Healthy Party/ Fundraiser Ideas at School
Better options:
Seasonal fruit cup sale instead of a bake sale
Popcorn sale instead of a candy sale
Sandwich party (have each kid bring their favorite topping and you bring the bread) instead of a pizza party
Other great options if resources for proper storage are available include: Low-fat ice cream or frozen yogurt and shaved ice flavored with Crystal Light flavors
Non-food Fundraising Ideas:
Walk-a-thons
Read-a-thon
Gift-wrap sale
Grocery store fundraisers (Grocery stores give a percentage of community members' purchases to a designated local school)
Car wash
Magazine subscription sale
Book fair
Talent show
Check out These Websites for More Ideas:
---