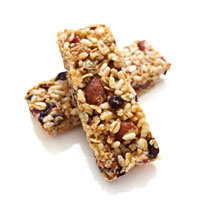 Become a granola bar expert with a few of our nutrition tips of what to look for, what to avoid, and top brands!
When walking down the cereal aisle at your local grocery store, you may be overwhelmed by the abundance of granola bars, cereal bars, and diet bars packed on the shelves. These bars have become an easy alternative for a quick meal or snack, but with all the options, how do you know which ones are the healthiest for you and your family? The answer isn't as complicated as you might think, and with some smart shopping and label reading, you can become a granola bar expert.
Nutrition Facts
The key to figuring out which granola bars you can be happy to feed your kids, it's important to know what to look for on the package. First, flip the box over and read the Nutrition Facts. The most important components of the Nutrition Facts are the fat (saturated and trans fat), fiber, and sugar.
Fat: When looking at the fat, make sure your granola bar has no more than 1 gram of saturated fat and 0 gram trans fat.
Fiber: You want a granola bar that has 3g or more of fiber. Anything less means your bar is not a good source of fiber.
Sugar: The sugar should be less than 15g. Any more and it won't provide you with the long term energy you are looking for in a snack or meal replacement bar.
Analyzing the Nutrition Facts Label
Here is a Nutrition Facts Label with the important components included, so you know where to find them when you go shopping yourself.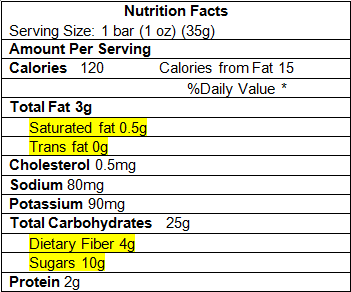 Ingredient List
Reading the ingredients is another important way to judge the quality of your granola bar. All ingredient lists have the ingredients listed in descending order from highest amount to lowest amount.  This means that the ingredients listed in the beginning are in the highest quantity as compared to the ingredients listed at the end. It is important to look for keywords in the ingredients that may indicate a bar is not healthy. Some unhealthy ingredients include:
Hydrogenated or partially hydrogenated oils: These oils are types of trans fats. Even if the nutrition fact list trans fat as 0g, there still may be traces of this unhealthy, harmful fat.  Avoid granola bars with hydrogenated oil of any kind.
Palm and palm kernel oils: These oils are types of saturated fat.  If a granola bar has these oils listed in the ingredients list, it means the granola bar has saturated fat in it.
High-fructose corn syrup: This is a genetically-modified sugar found in many food products, including granola bars.  It's best to choose more natural granola bars without high-fructose corn syrup. Be especially aware of bars with high-fructose corn syrup listed in the first few ingredients. Many "fruit-filled" granola bars have lots of sugar, including high-fructose corn syrup.
Enriched wheat flour, wheat flour, unbleached flour, or bleached flour: All four of these flours go through the same process of being stripped of their nutrients and then chemically enriched with specific vitamins and minerals. The better alternative is whole grain wheat, whole grain flour, or whole oats. The key word to look for is WHOLE!
Healthiest Granola Bars on the Market
Quaker Oats: Simple Harvest
Kashi TLC Chewy Granola Bars
Nature Valley Granola Bars
Health Valley Chewy Granola Bars
Barbara's Crunchy Organic Granola Bars