Gestational Diabetes: A Family Opportunity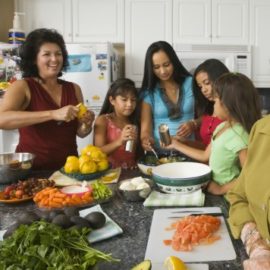 A diagnosis of gestational diabetes can be scary, but it doesn't automatically mean you'll develop type 2 Diabetes later in life. Since you know you're at an increased risk, you can make changes now to prevent you and your family from getting diabetes in the future.
Try these tips to keep you and your family healthy!
During your pregnancy:
Take a brisk walk after meals. It'll help lower your blood glucose, and help you and the baby stay balanced.
Work with a registered dietitian nutritionist (RDN) to make sure you're eating the right kinds and amounts of carbohydrates at each meal. Call your doctor and ask for a referral to a RDN that specializes in gestational diabetes.

 

It's essential to eat 3 small meals per day and 2-4 small snacks instead of 3 big meals per day. Meals should have 45-60g carbohydrates (with breakfast at the low range), and snacks should have 15-30g. Make sure all meals and snacks are balanced with protein and some healthy fat. Have your RDN or certified diabetes educator determine with you, how much carbohydrate you should eat. The above amount is an average.
Start with a small, low carbohydrate breakfast. Cereal is a definite no-no, and can send your blood sugar spiking.
Eat carbohydrate foods with a low Glycemic Index (GI), a measure of how different foods affect your blood sugar. Try to choose mostly foods with a score lower than 50 (1). When you eat foods with a high GI, eat with protein rich foods like meat, poultry, fish or low-fat cheese to help decrease the effect on your blood sugar. For a list of foods and their glycemic index, visit

Harvard's Healthy Eating site

.
 Make sure you're gaining weight in accordance to the Institute of Medicine Guidelines (3). Read more about weight gain during pregnancy. If you start at a normal weight (BMI 18.5-25), the guidelines say to gain 25-35 lbs. If you began overweight (BMI 25-29.9), gain 15-20 lbs. If you began your pregnancy in the obese category (BMI over 30), gain 11-20 lbs. You can calculate your pre-pregnancy BMI on CDC.gov BMI adult calculator.
After your pregnancy:
Breastfeed your baby exclusively for 6 months, and continue to breastfeed until baby is a year old (2). Not only is this the absolute best nutrition your baby can get, but it will help prevent a future diabetes diagnosis and help you lose weight. A win-win!
Avoid sugary beverages like soda, juice, flavored milk, or milkshakes. They give your body a toxic sugar load, so if you must have them, drink less than 8 oz/day (and keep the milkshakes to 1 per week or less). Try adding fruit to sparkling water for a healthy fizzy treat instead!
Watch out for added sugar in hidden places – check out

Ways Parents Can Cut Down on Sugar

.
Be sure to get regular check ups! It's always better to know what's going on with your body in order to take the necessary steps to be healthy!
Choose whole grains instead of refined grains–SuperKids Nutrition recommends at least 75% of the time–but work towards 90%. Check out our healthy whole grain guide.
Visit your doctor 12 weeks after giving birth to be tested for diabetes. Then get tested every 3 years after that.
For your family:
Make exercise a family affair. Visit parks with playgrounds, visit the pool, and take family walks after dinner. People are often more open with each other when walking, so this can be a great bonding activity!
Keep healthy snacks easily accessible in the house, like whole fruits, nuts, hummus, and cut up fresh veggies. For more snack ideas, see

50 Healthy Snack Ideas for You and the Kids to Love

.
Limit the amount of junk food you keep in the house. If you're craving ice cream, you'll have to drive to the store to get it, not just mindlessly munch.
Make sure your family meals are based on veggies, fruits, protein, and whole grains. The right balance will keep everyone fueled and healthy. Include sources of healthy fats like salmon, avocado, nuts, and olive oil.
If you already have little ones while you are pregnant, talk to them about how food choices affect them and the newest member of the family. If your son begs for McDonald's for dinner, tell him how fast food won't help their little brother or sister grow into a healthy baby.
Making some or all of these changes can be instrumental in preventing a future diabetes diagnosis.
References:
http://care.diabetesjournals.org/content/37/12/3345.full
Mahan, L., Escott-Stump, S., & Raymond, J. (2012). Krause's Food & the Nutrition Care Process (13th ed.). St. Louis, Mo.: Elsevier/Saunders.
Rasmussen K.M., & Yaktine A.L. (2009). Weight Gain During Pregnancy: Reexamining the Guidelines. Institute of Medicine.
---