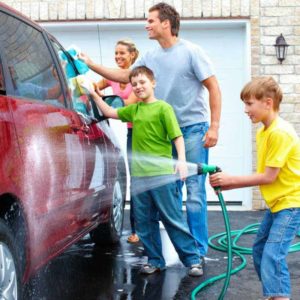 Making fitness fun and not a chore can help you be more active and spend time with your children to bond and strengthen your relationship as a family.
The Centers for Disease Control and Prevention reports that nearly half (48%) of adults get the recommended amount of exercise. Sadly, the same trend has been reported for kids. Among high school students, less than 3 in 10 get enough physical activity. By taking the time to be active naturally you're showing your kids that moving is fun while encouraging your children to embrace a more active lifestyle. With so many sedentary distractions, like limiting media exposure to music videos, video games, TV, and texting –kids just don't get the activity they need. Increasing physical activity is not only good for children's physical and mental health, but also for academic performance.
Make your home your playground.
Turn your backyard, driveway, or sidewalk into your own playground. This is a great way to squeeze in some fun activity while dinner is in the oven. Try some of these easy at-home games:
Use chalk to draw a four square court, and play with a large rubber ball.
Play catch, but have the ball bounce first before you catch it.
Sock Tag – everyone places a long sock hanging out of a pocket. Then run and see who tags (grabs the socks) of the most people.
Have the family line up and take turns leading a game of red light green light or Simon says!
If you have a large enough group, kids of all ages can join in on games like duck-duck goose or red rover.
Climb a tree
Create your own race station –let the kids come up with the rules and the name
Plan a game day.
Make Saturday or Sunday "Family Game Day". Reserve an hour to come up with a family game that encourages teamwork and builds social skills.  Team up with other families in the neighborhood to build the excitement. When your extended family is visiting get everyone active together by creating family fitness traditions that can be passed down through generations. Some great ideas include:
Relay races
Scavenger hunts
Wheelbarrow races
Hula hoop contests
Water balloon tosses
Community soccer or volleyball games
Manhunt
Clean up!
Participate in a local beach clean up or national park clean up day. From the walking to picking up trash, it all adds up to burning off some extra calories. All while you help make the world a better place!
Find out if your local community, school or church is doing a clean up, painting our mural event and get involved. Invite neighbors or friends to make it into a big affair, this can be an opportunity for the kids to learn about serving the community.
Make spring cleaning a 4 season event. Clean your house quarterly together as a team! Each kid can tackle different areas of the house –windows, cabinets, drawers. Teach the kids the importance of effectively working together to keep the living space clean and comfortable for everyone.
Family car wash! Don't just clean the outside -organize the inside, wipe down surfaces, and vacuum together!
Get fit on family outings.
On weekends or days off, try biking to locations that are less than 5 miles away. You'll get a great workout, be an excellent role model, and save on gas money! We love biking to the store, library, and park.
Fruit picking is a memorable seasonal activity! Look up U-Pick farms in your area, and spend the day picking fresh produce with your family. Kids love seeing where their food comes from, and can spend hours running through orchard fields!
Make it a family rule that if there are less than five flights of stairs, you'll take them! No exceptions –little kids can do it too!
Did you ever play stone skipping growing up? Visit a nearby pond or lake to collect flat stones to bounce across the water. Turn it into a competition by counting the number of hops!
Work those muscles gardening.
Whether you're planting vegetables, trees or flowerbeds, gardening is a great exercise.  Consider all the muscle groups you use while squatting to till the soil and plant the seeds, shoveling, transporting soil and buying supplies.  Ask the kids what they're most interested in and let them help pick out the flowers or crops to plant.
Plant a butterfly garden.  You'll enjoy the beautiful flowers while attracting brightly colored visitors.
Create a starting a family garden and let each child plant a different vegetable. Kids are more likely to try a new vegetable when they've had a hand in growing it.
Plant a rose garden. Each family member can adopt a special rose bush with their favorite color bloom.
The examples here are just a few of many ways you could incorporate more physical activity in your life with your family. Make a conscious decision to always choose activities that will encourage you to get moving! Schedule in fitness activities into your calendar. Exercising is also known to improve mood, decreasing your risk for depression – who doesn't want to be happy in this busy world? The next time you are feeling blue, try to kick off the negativity with some energy boosting games with your family!