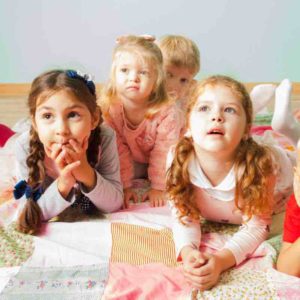 Parents can help kids understand harmful media messages by taking simple steps!
Fostering Healthy Self-Image
How can we foster a healthy self-image in our children? Many parents may be overwhelmed by the constant presence of advertising, marketing, and social media. You can offset potentially harmful media messages by providing guidance, education, and support with a loving and non-judgmental voice. Here are five simple ways to promote a positive self-image with your kids:
Examine your own relationship with food and body image.
Your kids will notice your eating habits starting at a very young age. If you are not leading a healthy lifestyle or are unhappy with your own body, consider seeking help from a Registered Dietitian Nutritionist or other health professional.
Limit excessive media exposure when possible.
As a parent, you have the power to restrict the time your children spend in front of the computer or television. Enjoy engaging activities instead: go for a walk, read together, teach your kids or teens how to cook or simply hang out with friends. Read more about media's influence with nutrition expert Jill Jayne.
Create and promote confidence-boosting routines at home.
Use positive words relating to your body. Create a non-judgmental atmosphere where your kids can openly discuss issues and concerns without fear of criticism. This will encourage your kids to come to you for advice and information rather than various media sources.
Positively reinforce healthy habits early and often.
Praise your children for trying a new vegetable, brushing their teeth after dinner, or recycling extra paper. Teach your kids the significance of these health-promoting activities. Let them know how their decisions will help them today…and also years down the road. Use healthy rewards.
Empower your kids to make their own choices.
It's no surprise that healthy kids become healthy adults. Encourage your kids to step out and choose their own favorite nutritious foods, make their own healthy lunches, and engage in their favorite physical activities. This will boost independence and self-esteem as your children grow into confident adults with their own healthy lifestyles.
Test Your Knowledge 
What is the best way to promote a healthy body image to your kids?
Answer: Be a confident role model and reinforce positive healthy habits.
What is a healthy alternative to watching TV or surfing the internet?
Answer: Going on a family walk after dinner.