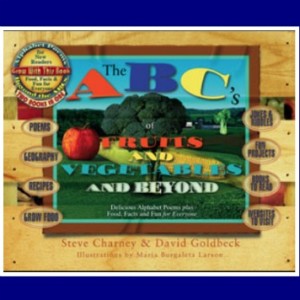 This book for elementary school children uses the alphabet to explore food and farming through poems, activities, jokes, and riddles.
by S. Charney and D. Goldbeck
What is this book about?
Part One teaches the ABC's using poems to educate the reader about fruits and vegetables. Part Two takes the lesson a step beyond by introducing food facts, jokes, recipes, shopping tips, and websites, where the authors further link their messages to health-friendly children's books. Each section is arranged by the alphabet and the same fruit and vegetable is featured in each section. For example if a child enjoyed the poem about carrots in part one, she might want to explore the carrot cookie recipe in part two.
What are the main lessons from this book?
The book accomplishes several goals. It can be a valuable tool for introducing the alphabet to a young child while exploring healthy eating habits. The older child will be able to learn how fruits and vegetables relate to history, geography, art, literature, science and gardening. Great recipes and fun food ideas will help create a young food connoisseur in the kitchen.
How can this book be used?
Overall the book is fun to read with many colorful pictures and is geared more towards the elementary school child. This is a great resource for nutrition educators and teachers as it could easily be utilized in a variety of subjects to teach children about nutrition in the classroom. Teachers could use a new letter with its corresponding fruit or vegetable each week in a lesson plan to help create healthy eating habits in their students while teaching them about science, art, geography, and literature.
The book suggests a multitude of activities that can inspire the entire family to get involved in making healthy lifestyle choices together. Don't be surprised if you find this book with your own bedtime reading.
After reading this book with your child:
Ask your child to name 2 fruits and vegetables from specific letters in the alphabet.
Ask your child if they know 1 or 2 facts about their particular choices, if not re-discover them together.
Create a meal or snack using the choices the child selected.
For more great reading ideas, check out our Recommended Reads!
The ABC's of Fruits and Vegetables and Beyond by S. Charney and D. Goldbeck. Ceres Press, New York: 2007 is available in bookstores or can be ordered directly from Ceres Press, PO Box 87, Woodstock NY 12498 for $16.95 plus $4.50 S/H. (845) 679-5573.