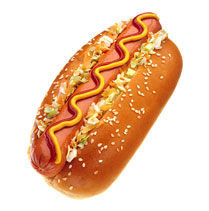 Before you completely ban hot dogs from your diet, there's good news. There are hot dog companies that are now making healthier hot dogs.
Whether you're going to a baseball game, enjoying the day at a barbecue, or making a quick meal for the kids, hot dogs have become an iconic and popular choice for many Americans.
What is actually in a hot dog?
Unfortunately, when examining the nutritional benefits of a hot dog, not a lot can be said.  In fact, the high amount of saturated fat and sodium found in many hot dogs cause them to be an unhealthy, calorically dense food. Many of us make the already fatty dog worse by placing it in a nutritionally-stripped white bun and loading on sugar and fat with condiments like ketchup, sauerkraut, and cheese. An ordinary two-ounce hot dog usually has around 200 calories, 16 grams of fat, and 600mg of sodium! Not only is the fat and sodium a concern, but nitrate, an ingredient found in many hot dogs, has been linked to serious, life-threatening diseases.
What are nitrates?
Nitrate is a chemical ingredient placed in hot dogs during the curing process to increase the shelf life and maintain the coloring of the meat. Recent research links the consumption of nitrates in cured meats to increased risk of chronic obstructive pulmonary disorder, pediatric brain tumor, and pediatric leukemia. Scary, huh?
Are there healthy hot dog options?
Yes, there are companies that make hot dogs with less than five grams total fat, less than 500 mg of sodium, and ones that are nitrate-free. Finding these healthy dogs can be easy with some smart shopping and simple label reading. But don't be tricked by hot dogs labeled "reduced-fat", "lite", or "lean" dogs, or even chicken and turkey dogs. All these can still be filled with too much fat and sodium and contain damaging nitrates.
How can you find healthy hot dogs at the grocery store?
When you're at the grocery store, you should first look at the total fat on the hot dog's nutrition facts.  If the total fat is over five grams you might as well call that hot dog a fat dog. Next, look at the sodium. Anything over 600 mg is way too much and about one fourth of the recommended amount of sodium an adult should be getting in one day.  Lastly and most importantly, look at the ingredients to see if there is nitrate in the hot dog. Nitrate may be labeled sodium nitrate, nitrite, or sodium nitrites, and all of these should be avoided. The best bet is to buy organic brand hot dogs because they will not have added nitrates.
Here is a list of hot dogs that are lower in fat, lower in sodium, nitrate-free, and the healthiest options for you and your family:
Applegate's Farms

Organic Turkey Dog
Organic Chicken Dog
Organic Beef Dog

Shelton's Turkey Franks
Organic Prairie Chicken Hot Dog
Trader Joe's Uncured Turkey Hot Dog
Lightlife: (vegetarian options)

Smart Dogs
Tofu Pups
Veggie Dogs
After you purchase your healthy hot dogs, don't stop there. Buy whole-wheat buns and load the hot dogs with fresh veggies like tomatoes, peppers, onions, and pico de gallo…be creative! Now that's a health dog!
Hungry for more?  Check out our healthy food swaps for tasty ideas.