Sample Day of Meals for a 4-Year Old Child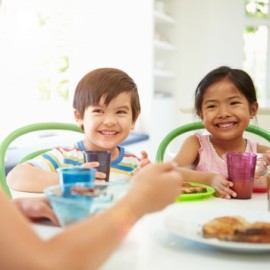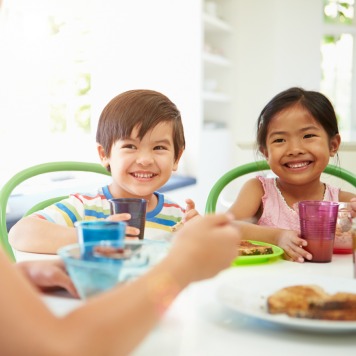 Four years old is such a fun age! Your little one is full of so many questions! This is a great time to get your child involved in preparing food because they are more interested in rules (like food safety), and their attention span has lengthened. By age 4 your child will have further developed his or her feeding skills and will continue to expand his or her own food preferences.
At this stage, don't worry so much about what your child "should" be eating; instead, focus on making eating a pleasant experience. It's okay if they eat more on some days and less on other days. Your child won't starve because of it! Remember to encourage instead of forcing your child to try new foods. Always avoid bribing or using food as a reward, but you can try some of these non-food rewards to encourage healthy eating.
Include your child in family meals by encouraging him or her to select foods from whatever is being served to the entire family, rather than making a separate "kids" meal you know he or she will eat. Acting as a short-order cook only reinforces picky eating behaviors.
Tips for Healthy and Fun Meals
Make eating fun! Use cookie cutters to slice fruit and sandwiches, or come up with fun names to make foods sound appealing.
Plan your weekly menu to include a variety of foods. Eating is more fun when it involves new foods and flavors.
Offer water as the primary source of hydration for your child. You can make water fun by adding cucumber or fruit slices for a colorful and healthy fruit infused water.
Encourage your preschool age child to track the colors of their foods using the Super Crew Color Tracker.
Set aside specific times for family meals. Eating with your child is a great way to bond and model healthy attitudes toward eating. Set meal times in advance, and make family dinners a priority.
Sample Menu
Meal
Food
Guidelines
Breakfast
Cereal with Berries: Cold whole grain cereal (1 cup if flakes or rounds, 1 1/4 cup if puffed), 1/4 cup berries, 1/2 cup skim milk or calcium fortified unsweetened organic soy milk or coconut beverage milk*
1 ounce grains1/4 cup fruit1/2 cup dairy*
Snack
PB and Banana: 1/2 banana, 1 tablespoon peanut butter or nut butter
1/2 cup fruit1 ounce protein
Lunch
Turkey and Cheese Quesadilla: 1 ounce nitrate free sliced turkey breast, 1 slice cheddar cheese*,  2 small whole wheat tortillas (6 inch diameter), 1/4 cup chopped tomatoes

Carrots Sticks and Dip: 1/2 cup carrot sticks, and low fat-ranch dip made with Greek yogurt

2 ounce grains1 ounce protein foods3/4 cup vegetables1/2 cup dairy
Snack
Pears and Yogurt: 3/4 cup plain low-fat or non-fat yogurt* with 1/4 cup pears (chopped or pureed) with 1-2 teaspoons of flax meal or a few chopped walnuts or almonds (if your child does not have a nut allergy)
3/4 cup dairy1/4 cup fruit
Dinner
Teriyaki Salmon Stir Fry: 1 ounce salmon, 1/2 cup cooked brown rice, 1/4 cup broccoli, 1/4 cup zucchini, 1/4 cup red bell pepper3/4 cup milk*
1 ounce grains1 ounce protein foods3/4 cup vegetables3/4 cup dairy
*   Use low-fat or nonfat milk or yogurt, and low-fat or reduced fat cheese
Recommendations from Choose My Plate for a 4 year old requiring
1200 calories: Grains: 4 ounces, Vegetables: 1 1/2 cups, Fruit: 1 cup,
Dairy: 2 1/2 cups, Protein Foods: 3 ounces
Our guidelines for dairy are based on USDA MyPlate recommendations. However, some experts disagree on how much dairy is needed. It's still not clearly evident if we need as many servings as recommended. Some experts recommend limiting dairy to 1-2 servings a day, while boosting other calcium sources such as fortified juices and nut milks, sardines, anchovies, kale, collard greens, or bok choy. The best way to build bones is to consume adequate calcium and vitamin D, and get enough exercise, especially weight-bearing exercise, in childhood and adulthood.
For more sample meal plans, read our Sample Daily Menu for a 3-Year-Old Child, Sample Day of Meals for a 2-Year-Old Child, and Sample Daily Menu For A 1 Year Old Child.
---