KISS Nutrition – Keep It Super Simple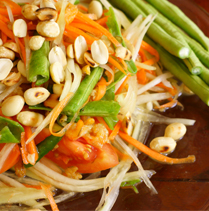 Real Nutrition: Healthy lifestyle changes happen over time, not overnight. Keep nutrition simple by choosing one change, learning more about it, and making it a part of your family's eating habits.
Real Life: If we try to sprint our way to a healthier lifestyle, we will undoubtedly tire and revert back to our old ways. Be realistic, and take a lifestyle inventory to identify habits and food choices that need improvement. Get started with these helpful tips, and make today a step toward a healthier you.
Focus on one nutrition concern at a time, for example, choosing lean meat, lowfat milk, increasing calcium rich foods, or eating more whole grain foods.
Add color! Buy fruits and vegetables with vibrant and distinct colors that indicate rich nutrient content.
Identify problem areas in your diet, such as high calorie snacks, skipping breakfast, or empty calorie foods.
Add 10 minute bursts of physical activity and work up to 30 minutes a day.
For more healthy lifestyle tips log on to www.supermarketsavvy.com.
---