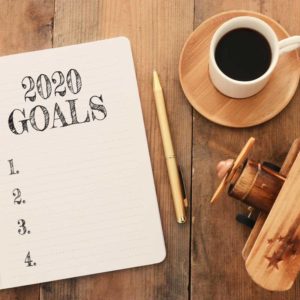 Learn new secrets to goal setting to help everyone in your family have a successful New Year!
The start of each new year offers a fresh start for each of us to make positive changes and new habits. Do you want to learn new strategies to help you and your family accomplish health, nutrition, and fitness goals? Now is the perfect time to get the ball rolling to get your health on track for the long haul. Follow our simple exercise outlined below to put yourself on track for lasting changes!
Consider Which Qualities Contribute to Success
One of the first steps you can take towards success is to draw on the past to appreciate the qualities that have already led to success in one or more areas of your life. You can apply those qualities to your NEW goals which will help you achieve lasting success and break bad habits. First, take a moment to think of a time in your life where you accomplished a goal. It can be an accomplishment such as mastering a hobby, playing a new sport, trying new games with the family, strengthening a relationship, or completing a challenging project at work. Everyone has their unique achievements, so find one that is specific to you.
Once you have selected your success, think back to what you did to achieve that success and the qualities that you drew upon. List them out on a piece of paper. Some common attributes that contribute to success include the following:
Dedication
Adaptability
Flexibility
Intensity
Focus
Persistence
Efficiency
Open-mindedness
You may find other qualities to add to your list as well – let the ideas flow and get them on your paper!
Apply These Qualities to Your (Realistic) Health Goal
Next, think about one nutrition, fitness, or another health-related goal that you want to accomplish. It can be a personal goal or one for the whole family. Consider how you can draw upon the qualities on your list and apply those qualities to your NEW health goal. Here are two example scenarios:
Scenario 1: You showed extreme dedication to teaching your child to learn the piano last year. You want to continue that same level of commitment to your new health goal of including fruits or vegetables in every meal. Since you've been dedicated in the past, you know you can be just as dedicated again— you've done it before!
Scenario 2: Remember when you planned ahead for all of those field hockey practices? Now, use those same planning skills to get your family active and moving! This can include planning daily morning walks, weekly Saturday hikes, or evening visits to the park with the whole family. Find an activity that you and your family love, and make sure to choose an activity that you can realistically incorporate on a regular basis.
Small Steps Lead to Big Changes
Making your goals realistic and measurable over time is another important contributor to success. It's the small steps that lead to those big changes. Set one or two small goals and stick with them- this can lead to the formation of new healthy habits. Small can even mean doing something for less than 5 minutes each day – we know time can be limited! Once it becomes part of your routine, you will be more likely to continue doing it. Then celebrate your accomplishments, and make new realistic goals to move forward. Remember, you don't have to change everything all at once!
Ride With the Momentum
One of the best things about exercise and nutrition accomplishments is that they work synergistically to help you get over speed bumps to healthy living even faster. Think of this as a positive feedback cycle. The momentum you build in one area can be transferred to the other, similar to a snowball effect. Have you ever had a great workout first thing in the morning, then feel motivated to have a great breakfast and continue that good nutrition throughout the day?! Look for this momentum and capitalize upon it. You may even find it has a positive effect on even more areas of your life too!
Seek out Social Support
You don't have to work towards your health goals alone- enlist a friend to be your accountability buddy or get the whole family involved! For example, if your goal is to eat a healthy breakfast each day, delegate certain days for each family member to help out with breakfast prep. Ask your child to help make several batches of overnight oats in the evening to have healthy breakfasts on hand for everyone AND save time in the morning.
Consider Your Environment
In addition to seeking support from the people in your life, look for ways to change your environment to help you find success. This can be as simple as stocking your pantry with healthy snacks so the healthy choice will be the easy choice when the snack attack strikes. To focus on fitness, you can keep your yoga mat or running shoes in a new place that is more visible and will motivate you to get moving!
Take-Aways
Use this year to build on the past and move forward with a positive mindset! Take some time right now to write down three goals you're committed to work towards. Use the core qualities that helped you succeed in the past to create new realistic goals, then watch your actions build momentum to help you reach your health, nutrition, and fitness goals.