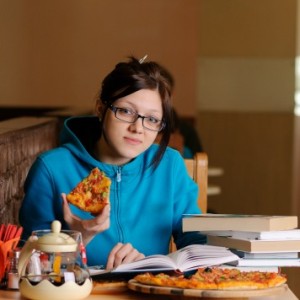 Help your college-age children prevent obesity and chronic disease by teaching them these tips for how to develop healthy eating and exercise habits. 
It's the new year, and sometimes college students come home during winter break with a few extra pounds. Entering college is a pivotal transitional period for most young adults. College students are prone to practicing unhealthy eating and lifestyle habits, such as pulling all-nighters to finish assignments and study for exams, relying heavily on caffeine, energy drinks, sugar to stay awake, and eating foods that are high in fat and sugar for comfort. In addition, the periods of the most rapid weight gain for adults is in their twenties, which may result in excess weight gain and body fat throughout life.
What does research show about weight trends in this age group?
A research study by Greaney et al. showed that male and female students from 8 universities in 8 states stated the same barriers to healthy weight management. These barriers fell into three categories: intrapersonal (e.g., temptation and lack of discipline); interpersonal (social situations); and environmental (e.g., time constraints, ready access to unhealthy food). Facilitators of healthy habits also fell into these same three categories: intrapersonal (e.g., regulating food intake, being physically active); interpersonal (social support); and environmental (eg, university's environment supports physical activity). Research done by Nelson et al. also identified factors that influenced college freshman and sophomore student's weight gain, nutrition, and physical activity. Influences on weight and diet included unhealthy food availability on campus, snacking, late-night eating, alcohol-related eating, stress or boredom eating, and food in student dorms. Other factors that hindered physical exercise were negative experiences using campus recreation facilities, poor weather, and lack of time, motivation, and social support.
Below are some suggested solutions to help students tackle these interpersonal, intrapersonal, and environmental barriers.
Stress
Social Situation
Lack of Access to Healthy Food
High Monetary Costs Associated with Healthful Behaviors
What Colleges Can Do to Help Empower Students to Be Healthier
In addition to what students can do on their own to overcome these barriers, they need support from universities. It is important for universities to take an active role in offering an environment that promotes healthy weight and behaviors among students!
Now get cooking and check out these 8 Quick & Healthy Microwaveable Dorm Room Meals!