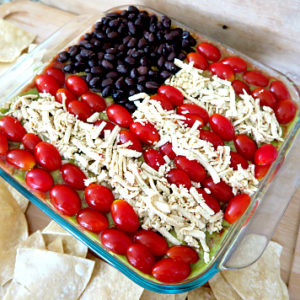 When family and friends gather together there is an abundance of tasty snacks, meals, and desserts. As we celebrate our independence from England, let your kids exhibit their independence in the kitchen!
Teach your kids the lifelong skill of cooking with these easy, quick and tasty recipes. Not sure what kids can do? Check out our Super Crew age-specific kids cooking guide. Bonus – these patriotically themed recipes can be enjoyed all summer long! Don't let the fun stop there. Use your holiday downtime to check out our free Super Crew printable activities for the kids to do while you catch some R&R, coloring pages (fun for water painting too), and garden and health children's book corner to read with your young ones.
4th of July 7-Layer Dip
Prep Time: 10 min
Total Time: 10 min
Ingredients
1 can (14 oz) non-fat refried beans
1 cup (8 oz) hummus (we used roasted red pepper flavor)
1/2 packet taco seasoning
2 cups (16 oz) chunky red salsa
1 1/2 cups (12 oz) Pico de gallo
2 cups (16 oz) guacamole
Flag topping ingredients:
Cherry tomatoes (cut into lengthwise halves)
Reduced fat shredded white cheese (we used pepper jack, Monterey jack works as well)
Instructions:
In an 8×8 pan, spread the refried beans in an even layer.
In a separate bowl, combine the hummus with 1/2 packet of taco seasoning and mix well. Spread hummus evenly on top of beans.
Spread remaining layers evenly, alternating between the salsas and guacamole. End with the guacamole as the top layer. Top with cheese and refrigerate for 1-2 hours before serving.
Optional flag topping: Rinse and drain black beans, place a handful in the top left corner of the dish and shape into a square. Alternate lines of cherry tomato halves with cheese lines until the entire pan is filled.
Serve with your favorite chips or veggies!
See layered bean video on our Instagram account.
Recipe by Amanda Sevilla
Whipped Cream Parfaits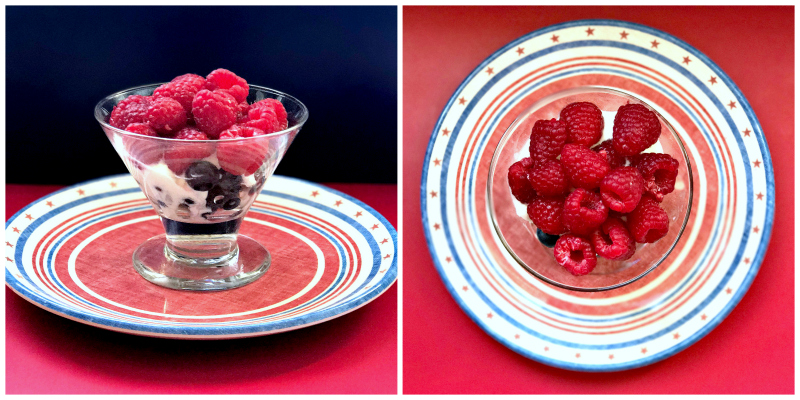 Prep time: 5 minutes
Total Time: 10 minutes
Ingredients:
1 cup heavy whipping cream
1 cup non-fat Greek yogurt
1 teaspoon natural vanilla extract
3 ½ tablespoon sugars
1 tablespoon of honey
Raspberries or strawberries
Directions:
Wash berries.
Place whip cream in metal mixing bowl, slowly add in sugar.
Whisk until it begins to peak.
Add in Greek yogurt and honey.
Continue to whisk until the cream reaches stiff peaks.
In a glass bowl layer berries with whip cream and serve.
Store remaining whipped cream in the airtight container.
Briefly re-whisk by hand before serving again.
Recipe from our Tasty Kid Tuesday Videos –see more at https://www.instagram.com/superkidsnutrition/
4th of July American Flag, Berry, Yogurt Pretzels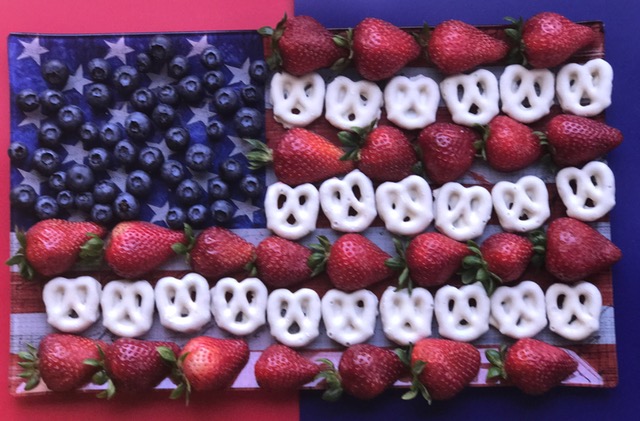 Ingredients:
Blueberries
Strawberries
Yogurt pretzels
Directions:
Wash berries
Assemble blueberries on serving tray in top left-hand corner
Slice strawberries in half, so they lay flat and begin to create the stripes
Add yogurt pretzels after strawberries, repeat process to create flag
See the Berry Yogurt Pretzel Video on Instagram.