Hydrating Your Child or Teenage Athlete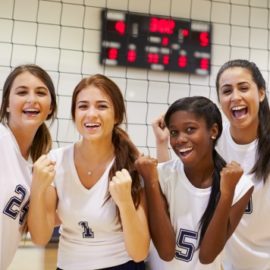 Hydration is something you don't want to overlook for young athletes. A few starter tips to ensure your child is ready for the heat and humidity is hydrating before and giving them time to adjust to the temperature they will be practicing or competing in. Adequate water does more than help regulate your temperature – it protects a child's spinal cord, lubricates the joints and helps keep them regular! Adding frozen fruit to your child's water bottle may help increase consumption, just be sure it stays chilled and gets a good washing when it's done. For specific recommendations check out the guidelines below:
Before event hydration:
Develop a plan and make sure your child has a few water bottles packed. Pack an extra just in case one gets lost or they are overly thirsty! The goal is to start an exercise in a hydrated state.
2-3 hours before aim for your child to have ~16-20 oz (about the size of a standard plastic water bottle)
Top off hydration 10-15 minutes before with an additional 8-12 oz
All these numbers seem confusing? Fill a clear bottle with measured water a half cup (4 oz) at a time, marking each 4 oz segment with a permanent marker. Now your kid will get a little math lesson in while they are hydrating!
 During event hydration:
After event hydration
The goal is to replace any fluids or electrolytes that caused a fluid deficit or weight loss through fluid loss. You know your kiddo. The exact amount depends on sweat rate, humidity, and other factors. A good rule of thumb is to make sure they continue to consume water after practice/games and when they are eating their recovery meal.
Consuming snacks or meals that contain small amounts of sodium (salt) will help speed up the rehydration process by making your child feel thirsty and help the body retain fluids that are consumed. You'll know if you have a salty sweater on your hands if they have a white salt ring on their sweat-dried clothes!
When arriving at home, offer a tasty popsicle to help replenish fluids and healthy carbs.
References
1. AND, DC, ACSM. Position of the Academy of Nutrition and Dietetics, Dietitians of Canada, American College of Sports Medicine: Nutrition and athletic performance. J Acad Nutr Diet. 2016;116(3): 501-528.
2. Casa DJ, Armstrong LE, Hillman SK, Montain SJ, Reiff RV, et al. National Athletic Trainer's Association Position Statement: Fluid replacement for athletes. J Athl Train. 2000;35(2): 212-224.
---