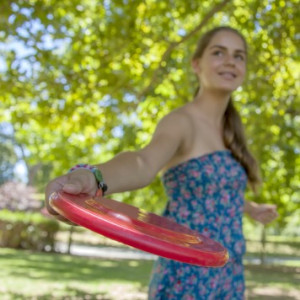 Research has found that children tend to gain weight at a faster rate during the summer, so kick off July with a week
 worth of activity-related themes to keep you and your family moving.
School's out – and so is the sun! It may be hot outside, but that doesn't mean you can't have fun moving your body.
Move it Mondays (Lifestyle)
Turn ordinary tasks into active ones!
After every 30 minutes of chores, summer reading, or video games, take an activity break! Skip rope, do jumping jacks, or jog in place for 5 minutes to get your blood flowing.
Rather than sedentary games, try playing interactive videogames that get you up and moving your body.
Limit TV time to one hour towards the end of the day, after your child has had an active, productive day. Make sure they've earned TV time after a well-exercised day. Keep TV time more active by having kids help fold laundry, or stretch while watching their favorite program.
Bring the kids in the kitchen and teach them how to cook. For some family-friendly meal ideas, check out these quick dinner fixes.
Tuesday Tunes (Arts and Crafts)
Arts and craft projects give children the opportunity to let their creative juices flow!
Help kids make their own music with an empty coffee can and some rubber bands.

Let the kids decorate and personalize the empty can.
Show them how to stretch the rubber bands around the coffee can from top to bottom.
Watch as they start plucking the bands and enjoy the music THEY made!
Learn a new song once a week, or enjoy singing the song you learned last week!
Have each family make up their own dance routine to the new song.

Craft a toy sailboat that you can later bring to a park with a lake or on a hike with a stream.
Winning Wednesdays
Grab some chalk and get the neighborhood kids together for some big blacktop games!
Hop scotch: Make use of your driveway, sidewalk or nearby pavement at a park and draw a game of hop scotch – make it as big as you can for more hopping!
Tic-tac-toe: Make a larger version and throw sand bags into the spots instead of drawing your Xs and Os to make it more active! To make it even more active, before tossing the bean bag, jump into the spot and use your body as the X or O by putting your legs out and arms up for X, or curving your back and arms into an O.
Four square: Make four boxes and number them one through four. Try to get people "out" by throwing or bouncing a ball into their square – if they miss, you get to move up, and a new player gets to join in! Two square works too, if you have a smaller group.
Thrilling Thursdays (Sports)
Sports are a fun way to stay active! Kids can learn a new sport, or improve their skills for the current one they play. Here are some suggestions:
Have a bike? Bike rides are fun for both kids and adults. Try riding around your neighborhood before or after dinner every night, or find biking trails close to home and make a day out of it. Take a bike ride to your favorite ice cream parlor and teach your kids about 'calories in-calories out'. Make sure to wear helmets!
Soccer is great for families and friends! All you need is a ball and 4 cones to mark the two goals. Play in a low traffic street area (like a cul-de-sac), at a park, or in your grassy backyard.
Gear up for a game of touch football! Football is great for large groups, and is easy to play on a lawn or at the park.
Grab your baseball glove and play some catch! Baseball is a great way to work out your arms and core. Not into baseball? Gather a group of friends and family for a game of whiffleball.
Fridays with Friends (Games)
Are the kids attending summer school? No worries – they can still catch up with friends on Fridays for some games to welcome in the well-deserved weekend! Try these fun and creative games ideas:
Grab as many friends as you can find, stand in a circle on the grass with one friend in the middle, and have a beach ball toss while the person in the middle tries to "capture" the ball. Alternate positions when the ball is captured, and keep going until everyone gets a turn in the middle.
Organize a neighborhood scavenger hunt. Friends can organize into groups of 2-3 and each group will collect a list of cool, interesting items they can find around the neighborhood. Finish the fun with prizes for the group that finds the most items and then serve healthy refreshments for everyone.
Have a water balloon toss! Fill up a bucket of water balloons and have friends pair off into teams of two. Have each pair line up equal distance apart and toss the balloon to their teammate. Each time a teammate catches the balloon, they must take a step back to increase the distance between the players. Keep going until there is only one team left with an unbroken balloon!
Manhunt –a fun game of tag played at night. One team hides (in the dark) and tries to get back to base without being touched by a member of the 'hunting' team. See Manhunt rules for more details.
Sail Away on Saturdays (Nature Trips)
Enjoy the warm summer weather in a fun and cool way. Nature is welcoming to all sorts of fun!
Take a trip to the beach! Swimming outdoors is a great activity when it's hot outside. The Centers for Disease Control and Prevention states that swimming is the fourth most popular sport in the United States. Swimming has been shown to increase muscle strength and improve mental health by improving your mood, decreasing anxiety, and reducing feelings of depression. In addition, regularly engaging in water sports helps to preserve your bones and joints!
Go for a hike! Finding new places to hike is exciting. You can find new trails and experience them together for the first time as a family. Research the hike ahead of time to find out if there is a stream or waterfall, then bring your mini toy sailboat and race it down the stream! Just don't forget to bring it home to avoid littering. Check out this expert interview with Rosanne Rust, who states hiking is her secret to maintaining a healthy weight.
Family Funday Sundays
Sunday may be a day of rest, but you can stay active with these leisurely activities that are fun for all ages!
Go for a 30-minute walk as a family before or after enjoying a healthy dinner together. Make it more fun by taking turns dribbling a basketball while walking and try to beat your longest record.
Spend an hour in the garden with your kids to burn some calories, then enjoy the 'fruits' of your labor together.
Meet at a park to play ultimate Frisbee, or try rollerblading on a paved trail.
Bike to your favorite local restaurant for breakfast, lunch or dinner instead of driving. Or bike to your local farmer's market.
Have young kids? Run next to them while they bike. Nutrition expert Kate Scarlata offers this tip and many more for raising healthy families.
Play sock tag outside! Each person hangs a long tube sock from his or her back pocket. Yell go –see who collects the most socks.
Meet up with your family members and plan your own themes for the summer days. Teach your kids at a young age that summers are meant for movement! By making exercise fun, they'll be sure to correlate physical activity with positive memories in the future.