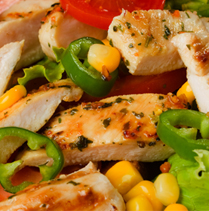 Today, many families are constantly on the go, often leaving the dinner meal for takeout, including fast foods. However, preparing dinner does not need to be a big production for the meal to be healthy. Below are some nutritious and easy-to-prepare dinner ideas for you to share with your family. You may even wish to enlist your children to lend a hand in the kitchen. Bon appétit!
Whole wheat pasta with marinara sauce topped with extra lean ground sirloin, ground turkey, cooked shrimp, canned clams, or tofu and your choice of vegetables.
Canned beans such as kidney, pinto, or soy, drained and rinsed and then spooned over brown rice, whole wheat pasta, or salad. Add your own seasonings for variety. Try olive oil and grated parmesan cheese or low-fat feta.
Frozen burrito served with a side veggie or tossed green salad.
Loaded Potato: Top a potato with cooked (frozen) broccoli and cottage cheese, or reheated with black beans, low-fat cheese, and salsa.
Rotisserie chicken from the grocery store with cooked frozen veggies and either low-fat stuffing or homemade mashed sweet potatoes.
Tortilla-, Muffin- or Pita-Pizza! Choose between a whole-grain English muffin, flour tortilla, or pita and top it with spaghetti sauce, grated low-fat cheese, veggies, and leftover or grilled chicken. Toast it in the oven or toaster oven.
Toasted pita bread filled with hummus and veggies or tuna and salad greens.
Whole wheat flour tortilla roll-up with natural nut butter and a sliced banana and a side of baby carrots.
Rotisserie chicken from the grocery store with cooked frozen veggies and homemade mashed sweet potatoes.
Stir-fry made with white meat chicken, shrimp, or tofu, and frozen mixed veggies and your favorite seasonings over brown rice.
Baked fish such as wild salmon with vegetable couscous and a side of fresh fruit. Fish is easy to prepare- simply place the fillets into a glass baking dish coated with cooking spray. Sprinkle with your favorite seasoning and a dab of olive oil. Bake for 20 minutes at 350 degrees F.
Veggie burger, fish fillet, turkey burger, or buffalo burger on a whole-grain roll with lettuce and tomato and a side tossed green salad.
Omelet stuffed with sliced tomatoes and cooked (frozen) veggies and low-fat cheese. Add a side of baked oven fries, sweet potato fries, or a whole grain roll.
To learn how on-the-go families eat together, read Making Meal Time Family Time.