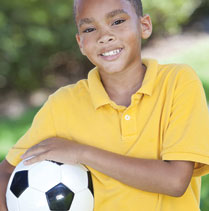 We caught up with nutrition expert, Kate Scarlata, RD, LDN, to get some of her tips for family-friendly healthy eating.
What are the top 3 important things to think of when feeding your kids?
1. Variety in the diet is essential
The more kids are exposed to different foods the more comfortable they are to consume them. A simple example of this is chicken. In America, most of us, including kids, eat a lot of chicken. If you traveled to Germany, you may be offered raw beef or in Turkey, tripe soup (cow's intestine). Because we are not used to these foods, many of us as adults are fearful or not interested in trying these foods. If you use this analogy to understand how our kids' food preferences are often formed, it makes perfect sense to offer variety often and at an early age.
2. Increase fruit and vegetable consumption  
As a whole, we are all falling short in the fruit and vegetable department. Globally, the World Health Organization (WHO), a group committed to assessing world health trends, rates poor intake of fruit and vegetables as one of the top ten risk factors contributing to death and reports that up to 2.7 million lives could be saved annually with sufficient fruit and vegetable consumption. Use the Taste a Rainbow of Colors Toolkit to help you reach your fruit and vegetable goals.
3. Bone up on Calcium
Especially for kids in the middle school (bone is at is peak growth during this time), be sure to include calcium-rich foods such as yogurt, milk, fortified soy milk, cheese, green leafy vegetables and more broccoli! Learn more about the importance of calcium during childhood, here.
How do you get your kids to try new foods?
When you are getting kids to try out new foods, present them with a wide variety of foods. Don't force them to try anything they don't want to. We do a lot with different colored fruits and vegetables in our family. We will pick a color to try as a family, such as yellow. The kids will select a fruit and vegetable to try that is that color, such as squash. We just recently tried pomegranate for the first time as a family. Surprisingly enough, I had never tried pomegranate before this. We also just tried beets recently. This is just one way you can expose yourself and your kids to a new variety of different foods. Make eating colorful foods fun by introducing your kids to The Super Crew!
What do you bring when it's your turn to be a soccer mom?
My three kids have all played soccer, so I have spent many a day on the sidelines. When it is my turn to provide the halftime snack, I bring a medium-sized fruit platter prepared at the local grocery store when the time is limited. If I have more time myself, I cut up a variety of fruits such as watermelon, grapes, and oranges. I am a firm believer in maximizing colors via fruits and vegetables whenever possible. I have lots of water available to keep kids well hydrated.
How can moms have a quick and healthy meal on the table without eating fast food?
Use the slow cooker! It is great to come home to a warm, cooked meal! I often cook up steel cut oatmeal overnight for a hearty breakfast in the slow cooker as well! Here are 3 easy slow cooker recipes for busy families.
What are the easiest foods to cook in the slow cooker?
I think a simple boneless chicken breast or pork chops are the easiest to cook in a slow cooker. I think it is safer to have thinner, smaller pieces of meat, rather than trying to cook a pot roast in the slow cooker. But that's because I am kind of a food safety queen. I like to do all sorts of things, I make beef stew, pork chops with sliced apples and cinnamon, pulled chicken or pork, and chili are really easy to make in the slow cooker. It's great because most of the sporting events are before dinner and you get to come home to a great smelling meal that is ready to eat.
How do you make fitness a fun family activity?
I have one daughter and two boys. We have always enjoyed hiking a local spot outside of Boston called Blue Hills. The trail up the hill is a good workout for kids of all ages. My kids traveled in a backpack until about 2 years old and then graduated to hiking up with the rest of us. (Here's how to plan the perfect family hike!) My husband and I are runners, and the boys have enjoyed biking with us on our longer runs on the weekends. When we vacation, we choose destinations that have bike trails. We love biking to or near the ocean. Playing games like street hockey, touch football, or basketball as a family brings the kid back in all of us!
How can a family incorporate heart-healthy fats into their daily lives?
We enjoy purchasing the nuts in their shell and snacking on these when we get hungry. My kids like cracking the nuts and trying different ones. Having to crack the nuts is a bit of work, and helps keep the portions reasonable in these healthy fat-rich snacks. We also top our yogurt and oatmeal with slivered almonds.
My husband is Italian, so having a bottle of extra virgin olive oil on hand at all times came included with my marriage. We cook with olive oil and drizzle it on our plates to dip our bread. Olive oil, a great source of monounsaturated fats, along with a good dose of nuts, another great source, provides my family with plenty of the heart-friendly fats.
There are so many choices promoted as "healthy" in the stores now. With a budget, time limits, and the distraction of kids, it can be very stressful to make so many decisions in a grocery store. Any quick tips on making food-shopping a more pleasant experience?
Here are a few healthy tips we uncovered:
Choose produce with bright colors and try a new item each week.
Choose foods in their simplest form with the least amount of packaging. If you don't buy prepackaged or microwavable foods, your kids won't eat them and neither will you. This tip will encourage more healthful choices. For example, the best peanut butter is the one that states ingredients – peanuts. NOT the one that states -peanuts, maltodextrin, partially hydrogenated cottonseed oil, salt
Grab nuts in their shell not dry roasted, salted peanuts. The least amount of packaging and processing-generally means healthier.
Buy what you enjoy eating, but make your own limits. For example, if you bring home a half gallon of ice cream you will be more likely to indulge nightly–maybe try to purchase a pint or quart and limit the indulgence.
Choose bread, cereals and granola bars that list a whole grain as the first ingredient and contain a minimum of 2 grams of fiber. Don't be fooled by the claim "made with whole grains" as the item may likely have limited amounts.
What suggestions can you give for incorporating new items?
Bring your kids grocery shopping with you. Grocery stores will have food samples to try. For example, there may be a different cheese they can try. It is a great way to try different things. My kids love it!
Also, it is good to bring your culture into it. My husband is Italian and I am German and Irish. Using your culture is a great way to try different foods and to make it fun.
What inspired you to write, Real People, Need Real Food: A Guide to Healthy Eating for Families living in a Fast Food World?
As a mother and dietitian, I was constantly asked questions regarding healthy eating for families. The book was written with to answer all the insightful questions that eager parents wanted to be answered in regard to healthy family friendly nutrition.
For more healthy tips from experts, see our Recommend Reads section.
Kate Scarlata, RD, LDN is a licensed and Registered Dietitian, living in Boston, MA. She can be reached through her website www.katescarlata.com. Her book Real People Need Real Food:  A Guide to Healthy Eating for Families living in a Fast Food World can be purchased online through major book retailers.
View all of our nutrition and health expert interviews who share their secrets to healthy living!