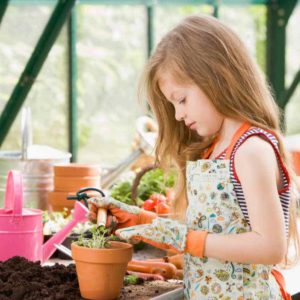 Spring is in the air, which means that it is time to start planning your vegetable garden!
Growing a vegetable garden is a great family activity. Not only does it allow for some family bonding time, but it also teaches your child about where food comes from. Children are much more enthusiastic about eating vegetables that they have grown themselves.
Pique your child's interest by reading books on gardening together. Some great fun reads are: How Groundhog's Garden Grew by Lynne Cherry and Muncha, Muncha, Muncha by Candace Fleming. You can also visit local farmer's markets, pick-your-own-vegetable farms, and community gardens. This will allow your child to talk with the growers themselves.
Now let's get started!
Pick a place.
Vegetables love the sun, so pick a nice sunny location in your yard. If you don't have a yard, don't despair, a couple of large containers will work just as well.
Prepare your dirt.
Nutrient-rich soil amendments/fertilizers can be found at your local nursery or hardware stores.
Pick your veggies.
Depending on where you live, you will either want to start your vegetables from seed or plants. Some easy-to-grow, delicious and nutritious choices are tomatoes, swiss chard, peppers, eggplant, zucchini (which grows fast), beans, and if space allows, pumpkins.
Add some herbs.
If you are feeling adventurous, add some herbs to your garden as well. Some great summer choices are basil, chives, oregano, thyme, and cilantro (before it gets too hot).
Remember to water!
To keep your plants healthy, make sure to water them regularly and watch out for pesky bugs. You can purchase organic pest sprays, ladybugs and/or praying mantises to help keep pests at bay.
Growing a vegetable garden can take some time. Have your child keep a journal of plant growth, either through words or pictures. This will keep your child interested and will help you keep track of when your plants should be harvested. All that is left to do now is sit back and eat your veggies. If your children weren't eating their vegetables before, I guarantee you they will be eating their vegetables now!
For more on farmer's markets see How to Get the Most from Your Farmer's market and Farmers' Market Benefits.
Then check out these fun kid's book with garden, fruit and vegetable themes see the Children's Book Corner.